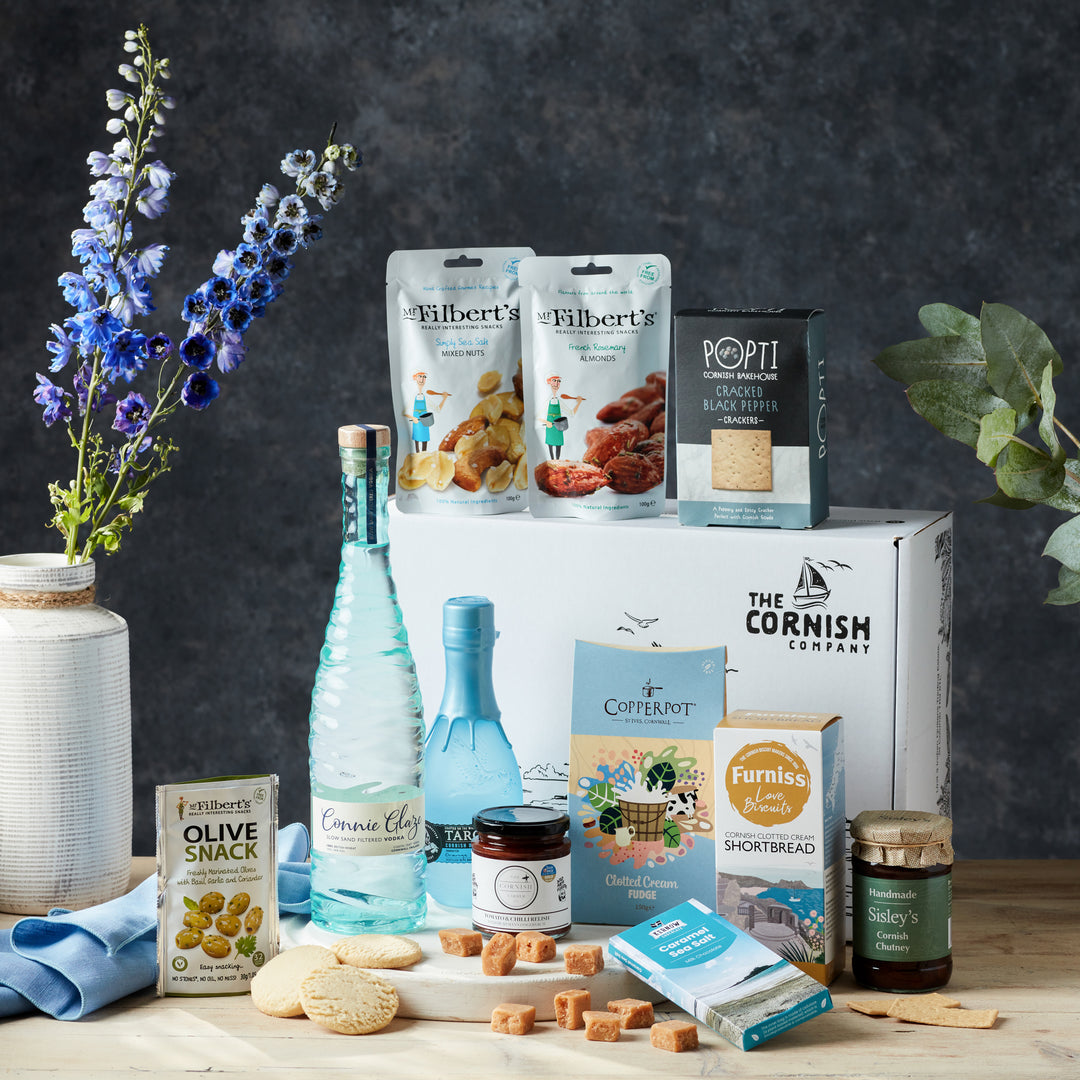 Cornish Elegance Gourmet Hamper
---
Free Personalized Gift Card Message
Choose A Delivery Date on Cart Page
Dive into the luxurious world of Cornish delights with the Cornish Elegance Gourmet Hamper. Each product in this ensemble exudes the rich heritage and gourmet brilliance of Cornwall.

What's Included: 
Connie Glaze Slow Sand Filtered Vodka

: Distilled with precision, this vodka captures the pure essence of Cornwall, offering a smooth and crisp drinking experience.
Tarquins Gin 35cl

: A true representation of Cornish botanicals, this gin blends juniper-forward aromas with a unique coastal character.
Copperpot Clotted Cream Fudge 150g

: A melt-in-your-mouth delight, this fudge combines the traditional Cornish clotted cream with velvety sweetness.
Tomato and Chilli Relish with Dead Man's Fingers Rum

: A fusion of tangy tomatoes, fiery chilli, and the unexpected twist of rum. Perfect for spicing up your dishes.
Popti Black Pepper Crackers

: Crisp, with a hint of black pepper, these crackers are the ideal companion for your cheeses and dips.
Mr Filberts Green Olives with Lemon & Oregano

: Marinated to perfection, these olives are a burst of Mediterranean flavors with a Cornish touch.
Mr Filbert's French Rosemary Almonds

: Roasted almonds kissed with fragrant rosemary, a snacking experience unlike any other.
Mr Filberts Sea Salt Mixed Nuts

: A delightful mix of nuts, sprinkled with Cornish sea salt, ready to be devoured.
Furniss Clotted Cream Shortbread 200g

: Buttery and crumbly, these shortbread cookies embody the creamy goodness of Cornish clotted cream.
Sisleys Cornish Chutney

: A harmony of fruits and spices, this chutney is the perfect accompaniment to your cheese platters and sandwiches.
Kernow Salted Caramel Chocolate Bar

: Dive into layers of luscious caramel and rich chocolate, a treat that speaks the language of Cornish indulgence.



FREE

 Next Day Delivery Included

FREE

 

Personalised Gift Card Message
Choose A Delivery Date on Cart Page
Every item in this hamper has been meticulously chosen to represent the gourmet excellence of Cornwall. It's not just a hamper; it's a journey through Cornwall's finest. Revel in the experience!
Free Next Day Delivery: This applies to all collections except for the Cornish Food and Drink Section.
Delivery Availability: From Tuesday to Saturday.
Perishable Goods: Some hampers contain perishable items. Please ensure they are refrigerated upon arrival.
Shelf Life: Scones & Pasties last for 5 days; clotted cream for 5-7 days. For specific best before dates, check product packaging.
Choosing Your Delivery Date:
Availability: Select your preferred date on the cart page, with deliveries available from Tuesday to Saturday.
Exclusions: Delivery is not available on Sundays and Mondays.
AM Delivery: Morning delivery options are also available.
Important:
While you can select a preferred delivery date at checkout, please be aware this is not a guaranteed service. Courier delays can occur and are beyond our control.