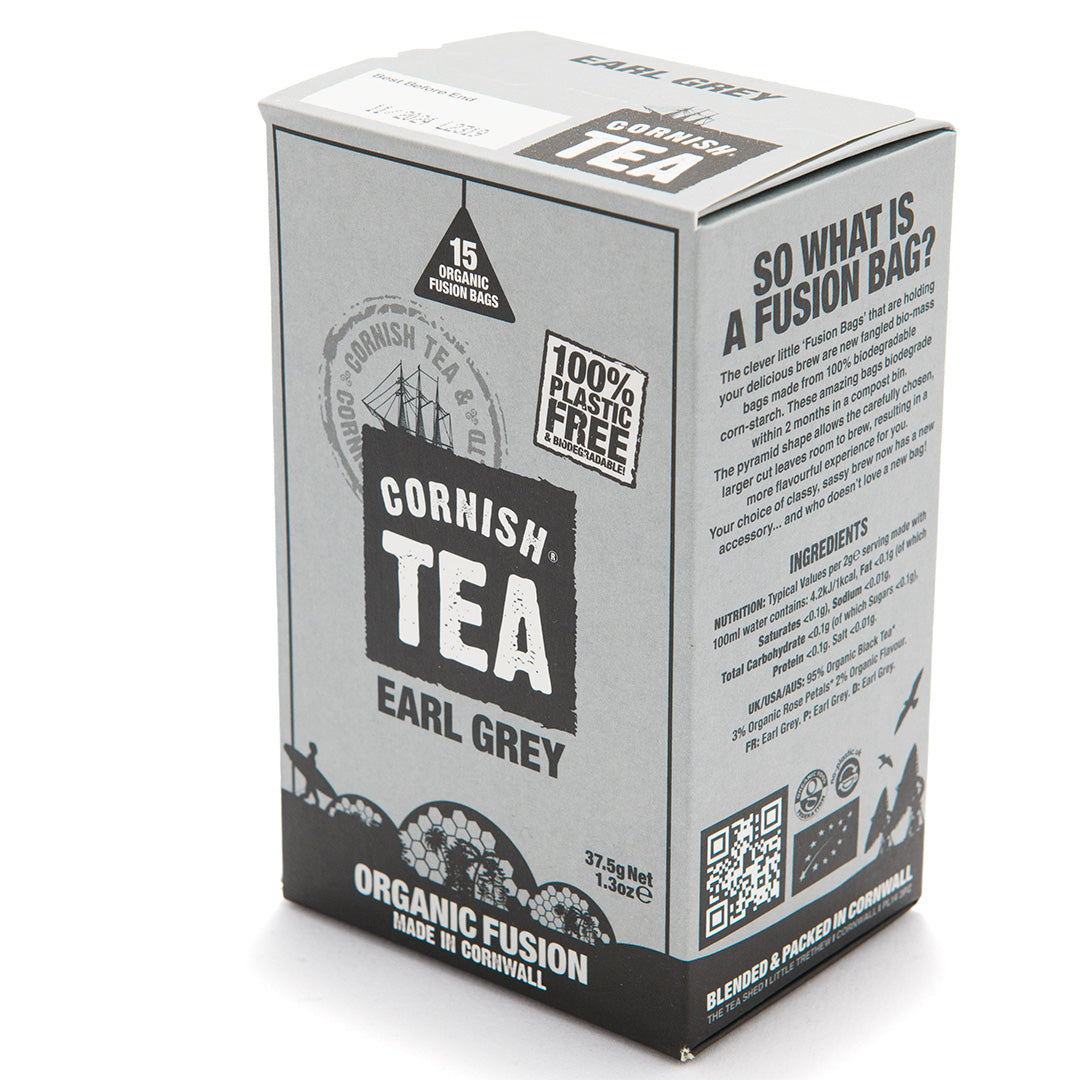 Earl Grey and Rose Petals Organic Fusion Tea
---
Next Day Delivery Available
Free Personalized Gift Card Message
Choose A Delivery Date on Cart Page
15 x Fusion Earl Grey and Rose Petals organic

As soon as the hot water hits the leaves the fabulously fragrant steam rises and awakens your senses. That familiar citrus aroma with an ever so gentle floral back note.

Not the stars of the show, the rose petals hang out in the background and are an elegant accompaniment to this classy little number. The leaves themselves are an accomplished ensemble, vibrant, African and well balanced.

This is a loose leaf quality tea in a clever little bag. Definitely worth an ovation…but don't rush to get up, savour the moment and finish the cup first.

Contents 15 Earl grey and Rose Petal Fusion Bags

So what is a fusion bag?

The clever little "Fusion Bags" that are holding this delicious brew are new fangled bio-mas bags made from 100% biodegradable corn-strach and they biodegrade within 2 months!

The pyramid shape allows the carefully chosen, larger cut leaves room to brew, resulting in a more flavourful expeiriencefor you. Your choice of classy, sassy brew now has a new accessory.. and who doesnt love a new bag!
Free Next Day Delivery: This applies to all collections except for the Cornish Food and Drink Section.
Delivery Availability: From Tuesday to Saturday.
Perishable Goods: Some hampers contain perishable items. Please ensure they are refrigerated upon arrival.
Shelf Life: Scones & Pasties last for 5 days; clotted cream for 5-7 days. For specific best before dates, check product packaging.
Choosing Your Delivery Date:
Availability: Select your preferred date on the cart page, with deliveries available from Tuesday to Saturday.
Exclusions: Delivery is not available on Sundays and Mondays.
AM Delivery: Morning delivery options are also available.
Important:
While you can select a preferred delivery date at checkout, please be aware this is not a guaranteed service. Courier delays can occur and are beyond our control.