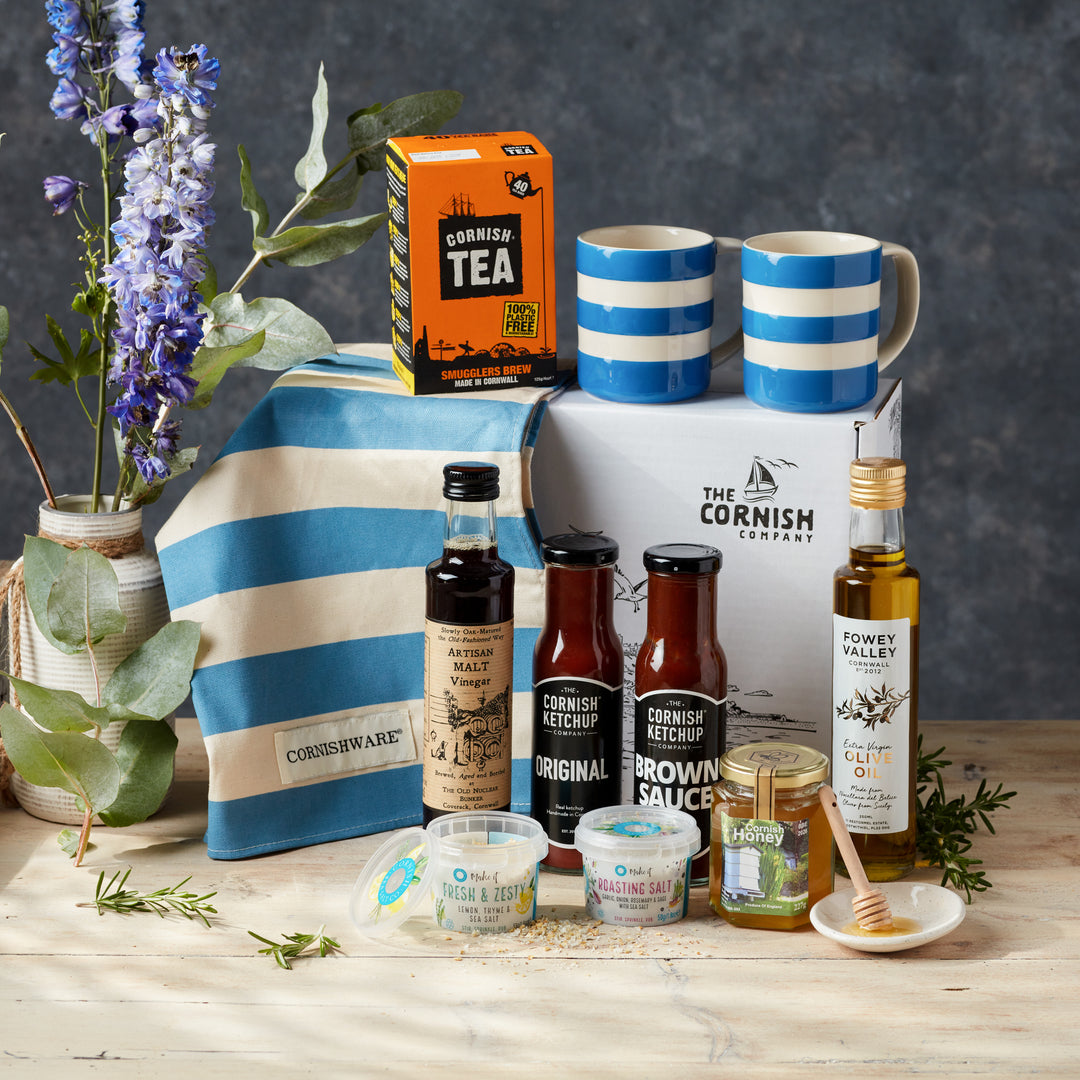 Cornish Kitchen Delights Hamper
---
Free Personalized Gift Card Message
Choose A Delivery Date on Cart Page
Dive into the culinary splendors of Cornwall with the Cornish Kitchen Delights Hamper. Every item in this curated collection represents the best of Cornish flavors and craftsmanship.

What's Included: 
Herb Sea Salt (45g)

: Crafted by the renowned Cornish Sea Salt Co., this blend of natural sea salt and aromatic herbs elevates any dish to gourmet standards.
Roasting Salt (45g)

: Also by the Cornish Sea Salt Co., this roasting salt is your secret ingredient for perfectly seasoned meats and roasted vegetables.
Extra Virgin Olive Oil (250ml)

: Sourced from Fowey Valley, this rich and fragrant olive oil adds a touch of luxury to salads, pastas, and more.
Artisan Malt Vinegar (250ml)

: Brought to you by the Artisan Vinegar Company, this malt vinegar is perfect for adding depth to sauces or simply drizzling over your favorite fish and chips.
Cornish Tea (40s)

: Immerse yourself in the comforting embrace of this traditional Cornish brew. Perfect for any time of day.
Cornish Brown Sauce & Cornish Ketchup

: Add a zesty kick to your meals with these two classic sauces, embodying the robust flavors of Cornwall.
Cornish Honey Jar

: Sweet, fragrant, and utterly delicious, this honey is a testament to the rich biodiversity of Cornish meadows.
2 x Cornishware Mugs

: Sip your Cornish tea in style with these iconic blue-striped mugs.
1 x Cornishware Tea Towel

: Add a touch of Cornish charm to your kitchen with this stylish and functional tea towel.



FREE

 Next Day Delivery Included

FREE

 

Personalised Gift Card Message
Choose A Delivery Date on Cart Page
Every item in this hamper has been carefully selected to give you an authentic taste of Cornish culinary traditions. Whether you're a longtime fan of Cornish flavors or trying them for the first time, this hamper promises an unforgettable gastronomic journey. Enjoy!
Free Next Day Delivery: This applies to all collections except for the Cornish Food and Drink Section.
Delivery Availability: From Tuesday to Saturday.
Perishable Goods: Some hampers contain perishable items. Please ensure they are refrigerated upon arrival.
Shelf Life: Scones & Pasties last for 5 days; clotted cream for 5-7 days. For specific best before dates, check product packaging.
Choosing Your Delivery Date:
Availability: Select your preferred date on the cart page, with deliveries available from Tuesday to Saturday.
Exclusions: Delivery is not available on Sundays and Mondays.
AM Delivery: Morning delivery options are also available.
Important:
While you can select a preferred delivery date at checkout, please be aware this is not a guaranteed service. Courier delays can occur and are beyond our control.