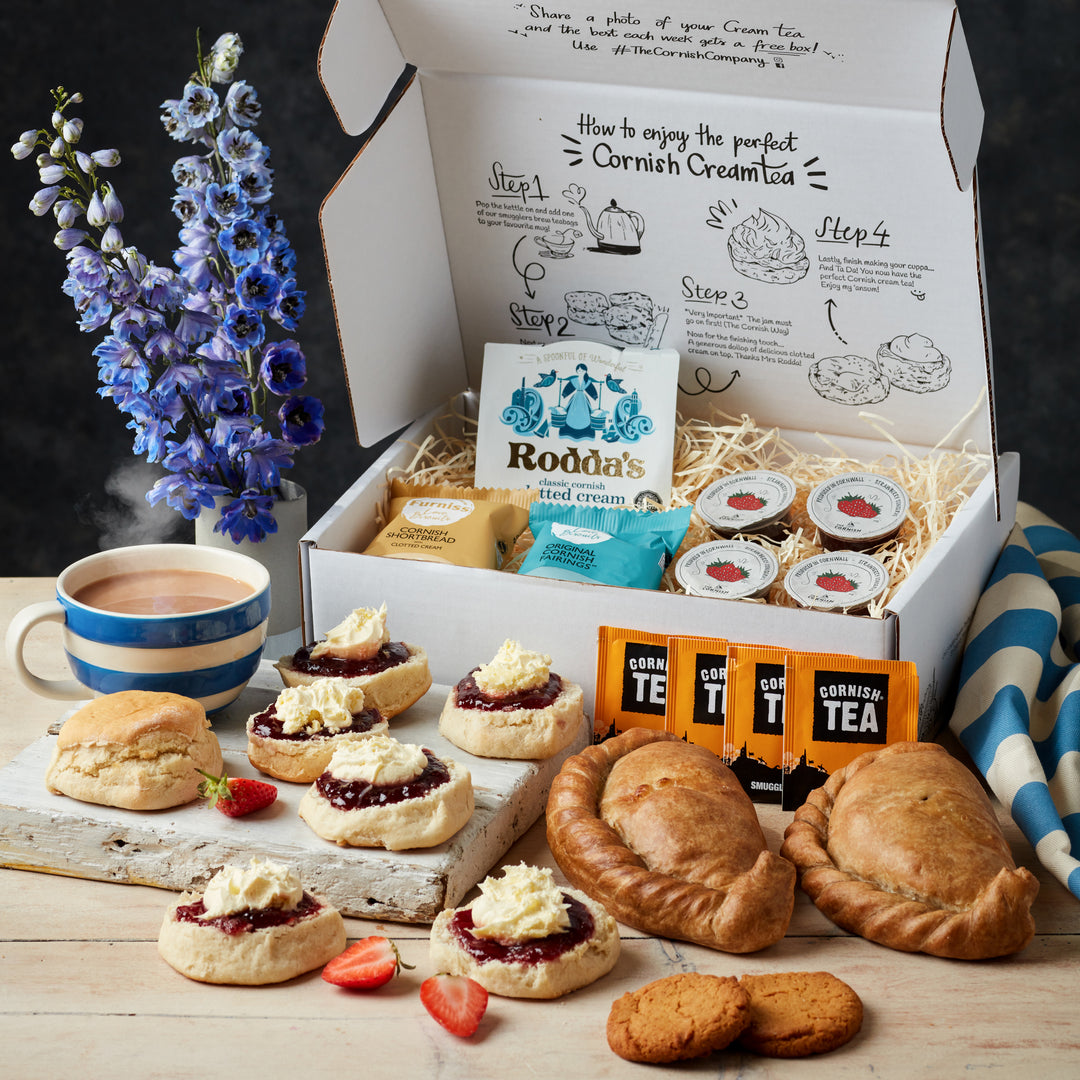 The Pasty & Cream Tea Hamper
---
Free Personalized Gift Card Message
Choose A Delivery Date on Cart Page
The classic Cornish steak pasty & Cornish Cream teas. Need we say anymore?

Our Cornish pasties are 'Proper pasties'. Each pasty is handmade with high quality steak combined with sliced potato, onion, swede, butter & seasoned to perfection.

There is only one way to describe our pasties and cream teas... Ansum!
What's Included:
4 Freshly Baked Plain Scones - Soft, fluffy and made with locally sourced ingredients, our plain scones are the perfect base for a classic Cornish cream tea.
2 Freshly Baked Medium Steak Pasties - 

Experience the authentic taste of Cornwall with our steak pasties, handmade with succulent steak, potatoes, onions, and swede, all encased in a golden pastry crust.
113g Rodda's Cornish Clotted Cream - Rodda's clotted cream is a celebrated Cornish export, adored globally. Only the finest Cornish milk is use to craft a range of delectably rich and creamy products.
112g Boddington's Berries Strawberry Conserve (4 Pots) - Enjoy the fruity sweetness of Boddington's Berries strawberry conserve, made with locally sourced berries and perfectly paired with our clotted cream.
4 Individual Cornish Smugglers Brew Black Tea Bags - Cornish high-quality tea bags that are perfect for a relaxing cup of tea any time of the day
Original Cornish Fairings Biscuits - Enjoy the crunchy, spicy sweetness of Furniss Original Cornish Fairings, a biscuit that's a traditional favourite for its unique blend of ginger and cinnamon flavours.
Clotted Cream Shortbread Biscuits: - These shortbread biscuits are a creamy delight, infused with authentic Cornish clotted cream for a rich and luxurious taste in every bite. They are the perfect sweet complement to your pasty hamper.
FREE

 Next Day Delivery Included - Order before 2pm
FREE

 

Personalised Gift Card Message - Comes with a Cornwall themed gift card with your personal message. To add your message, simply enter it on the cart page
Choose A Delivery Date on Cart Page - You can choose a delivery date up to 4 months in advance. If you need your order the next day, be sure to order before 2pm
Our pasties are cooked fresh on the day then sent out frozen to arrive in a chilled state ready to be kept in the fridge. DO NOT REFREEZE
Heating advice: The pasties can be enjoyed cold, but if you wish to consume them hot, place in the middle shelf at 180°c (160°c in a fan oven) for 15-20 minutes. Ensure that product is piping hot before consumption.
Scones
WHEAT Flour (Calcium Carbonate, Iron, Niacin, Thiamin), Sugar, Raising Agent: E450, E500, E341, Palm Oil, Rapeseed Oil, Maize Starch, Dextrose, ButterMILK Powder, SOYA Flour, MILK Cream Powder, Emulsifier: E481, E471, Salt, Flavouring, Stabiliser: E412, Water, Preservative: Potassium Sorbate E202.

Pasties
WHEAT Flour (Calcium, Iron, Niacin, Thiamin), Potato, Beef (13%), Onions, Swede, Pastry Margarine (Vegetable Oil - Rspo Palm & Rapeseed, Water, Salt, Emulsifier E471, Colour E160b/E100), Lard, WHEAT Flour, Salt, Butter MILK, Skimmed MILK, EGG, Black Pepper, White Pepper.
SOYA,
GLUTEN
MILK
EGG

May contain traces of NUTS

Not suitable for vegans
Not suitable for vegetarians
Free Next Day Delivery: This applies to all collections except for the Cornish Food and Drink Section.
Delivery Availability: From Tuesday to Saturday.
Perishable Goods: Some hampers contain perishable items. Please ensure they are refrigerated upon arrival.
Shelf Life: Scones & Pasties last for 5 days; clotted cream for 5-7 days. For specific best before dates, check product packaging.
Choosing Your Delivery Date:
Availability: Select your preferred date on the cart page, with deliveries available from Tuesday to Saturday.
Exclusions: Delivery is not available on Sundays and Mondays.
AM Delivery: Morning delivery options are also available.
Important:
While you can select a preferred delivery date at checkout, please be aware this is not a guaranteed service. Courier delays can occur and are beyond our control.