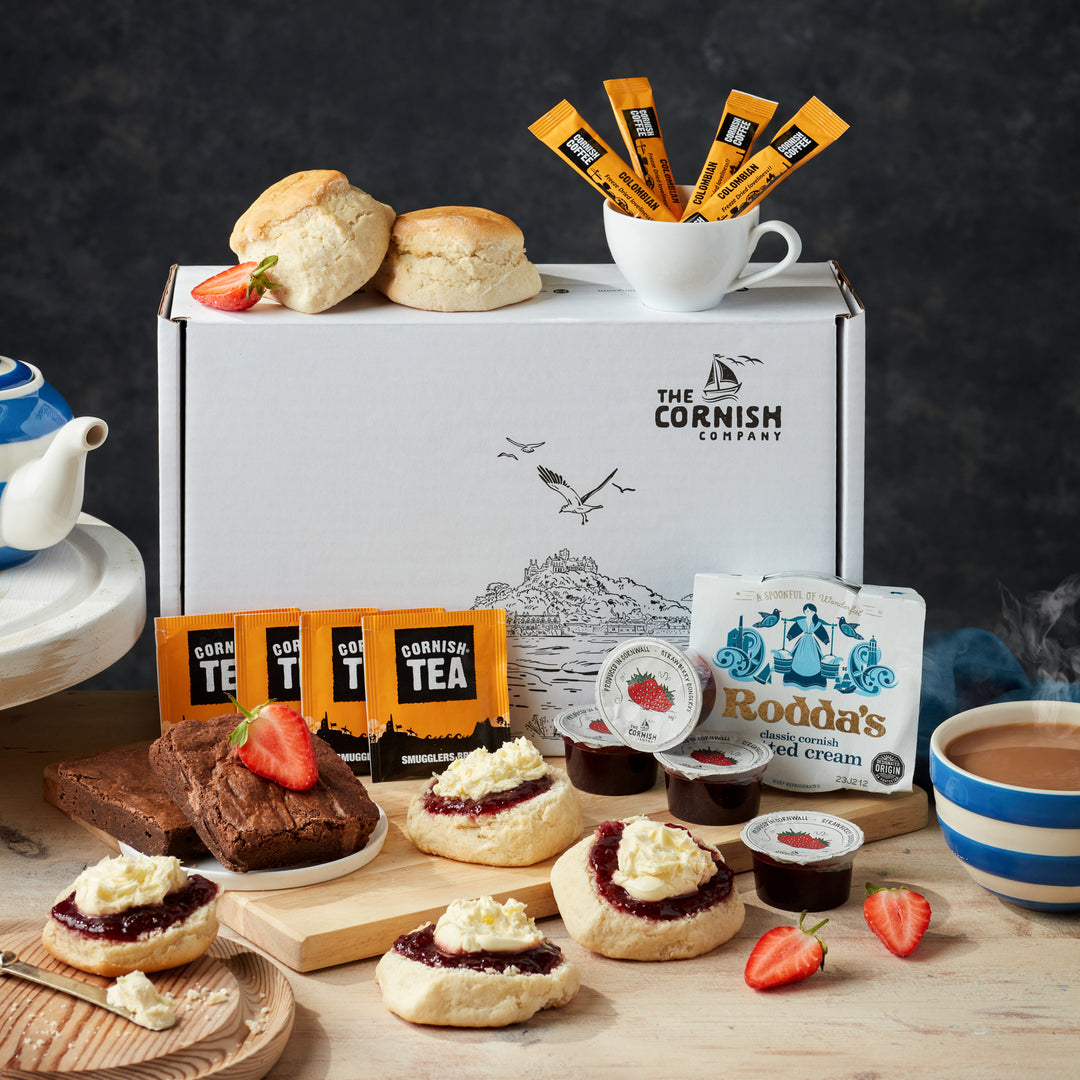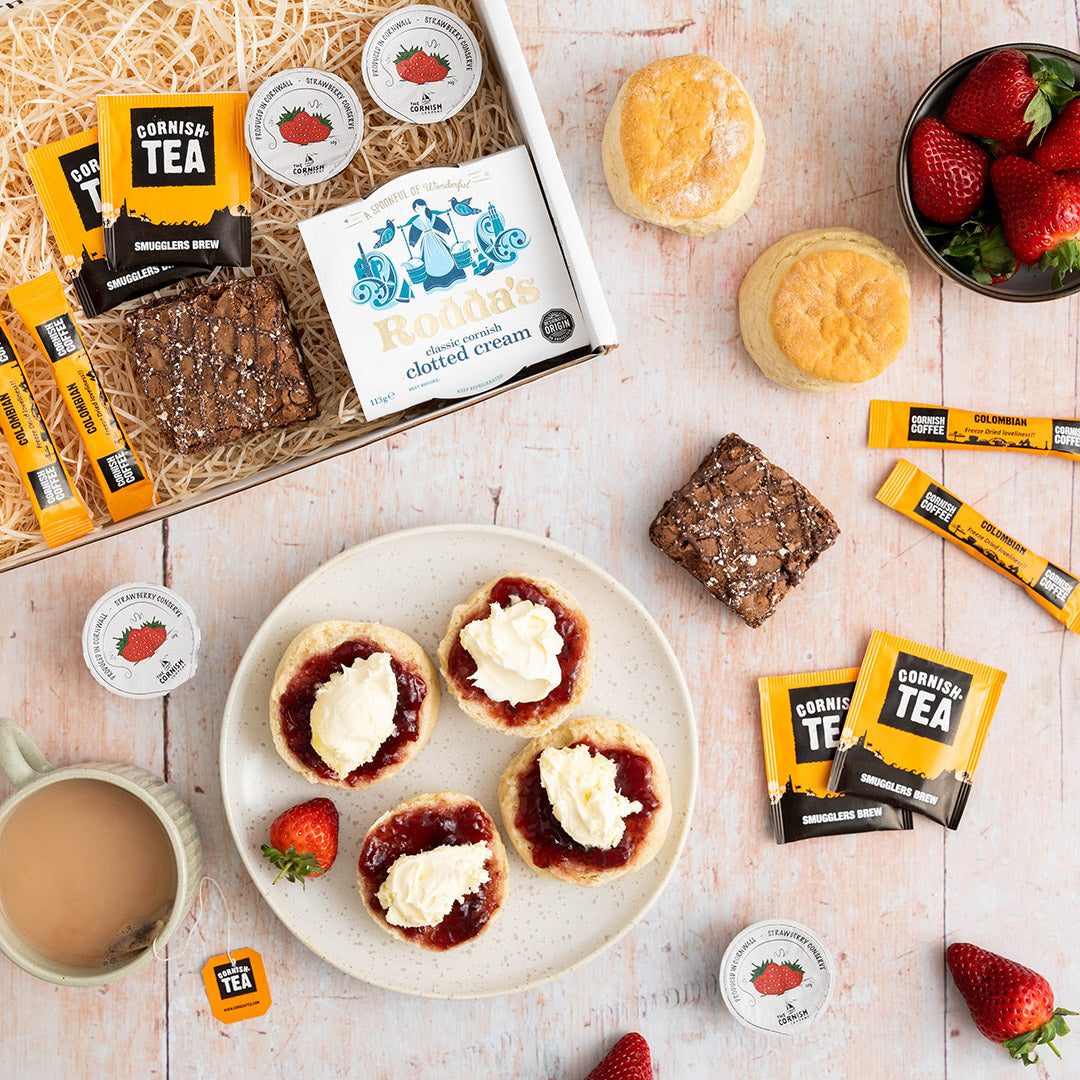 The Cream Tea Delight Gift Box
---
Free Personalized Gift Card Message
Choose A Delivery Date on Cart Page
 Send a taste of Cornwall anywhere in the U.K with our fresh take on the Standard Cream Tea Hamper. This gift offers even more choice than the rest of our range with the choice of tea or coffee.
And to go with the extra beverages? Extra sweet treats! We've chucked in two Cornish homemade brownies for good measure that will leave everyone with a smile on their face.
What's Included:
4 Freshly Baked Plain Scones - Freshly baked, fluffy plain scones that are perfect for enjoying with cream and jam
113g Rodda's Cornish Clotted Cream - Rich and indulgent, Rodda's Cornish Clotted Cream is the crowning glory to any scone. Its silky texture and sumptuous taste are simply unmatched.
4 x 28g Boddington's Berries Strawberry Conserve - Each pot of Boddington's Berries Strawberry Conserve bursts with the vibrant flavor of freshly picked strawberries, adding a luscious layer of sweetness to your scones.
4 x Cornish Smugglers Brew Black Tea Bags - Complement your cream tea with the robust and hearty flavor of Cornish Smugglers Brew Black Tea, a perfect accompaniment to enhance the entire experience.
4 x Cornish Coffee Sticks - For those who prefer a coffee break, enjoy a smooth and rich brew.
2 x Homemade Chocolate Brownies - Indulge in the decadent, gooey richness of our homemade chocolate brownies—a sweet finale to your cream tea indulgence.
FREE

 Next Day Delivery Included - Order before 2pm.
FREE

 

Personalised Gift Card Message - Comes with a Cornwall themed gift card with your personal message. To add your message, simply enter it on the cart page
Choose A Delivery Date on Cart Page - You can choose a delivery date up to 4 months in advance. If you need your order the next day, be sure to order before 2pm
Scones
WHEAT Flour (Calcium Carbonate, Iron, Niacin, Thiamin), Sugar, Raising Agent: E450, E500, E341, Palm Oil, Rapeseed Oil, Maize Starch, Dextrose, ButterMILK Powder, SOYA Flour, MILK Cream Powder, Emulsifier: E481, E471, Salt, Flavouring, Stabiliser: E412, Water, Preservative: Potassium Sorbate E202.

Brownies
Plain Chocolate: -cocoa mass,sugar, cocoa butter, emulsifier(SOY LECITHIN E322), flavouring-natural vanilla, butter (MILK), brown sugar, caster sugar, flour (WHEAT-GLUTEN)salt, free range(EGGS) Milk Chocolate:-sugar, cocoa butter. (MILK POWDER), cocoa mass. emulsifier(SOY LECITHIN E322), flavouring-natural vanilla.
(may contain traces of nuts/Peanuts)

Storage: This product can be frozen for up to 3 months.
Contains:
SOYA
GLUTEN
MILK

May contain traces of NUTS
Not suitable for vegans
Suitable for vegetarians
Free Next Day Delivery: This applies to all collections except for the Cornish Food and Drink Section.
Delivery Availability: From Tuesday to Saturday.
Perishable Goods: Some hampers contain perishable items. Please ensure they are refrigerated upon arrival.
Shelf Life: Scones & Pasties last for 5 days; clotted cream for 5-7 days. For specific best before dates, check product packaging.
Choosing Your Delivery Date:
Availability: Select your preferred date on the cart page, with deliveries available from Tuesday to Saturday.
Exclusions: Delivery is not available on Sundays and Mondays.
AM Delivery: Morning delivery options are also available.
Important:
While you can select a preferred delivery date at checkout, please be aware this is not a guaranteed service. Courier delays can occur and are beyond our control.