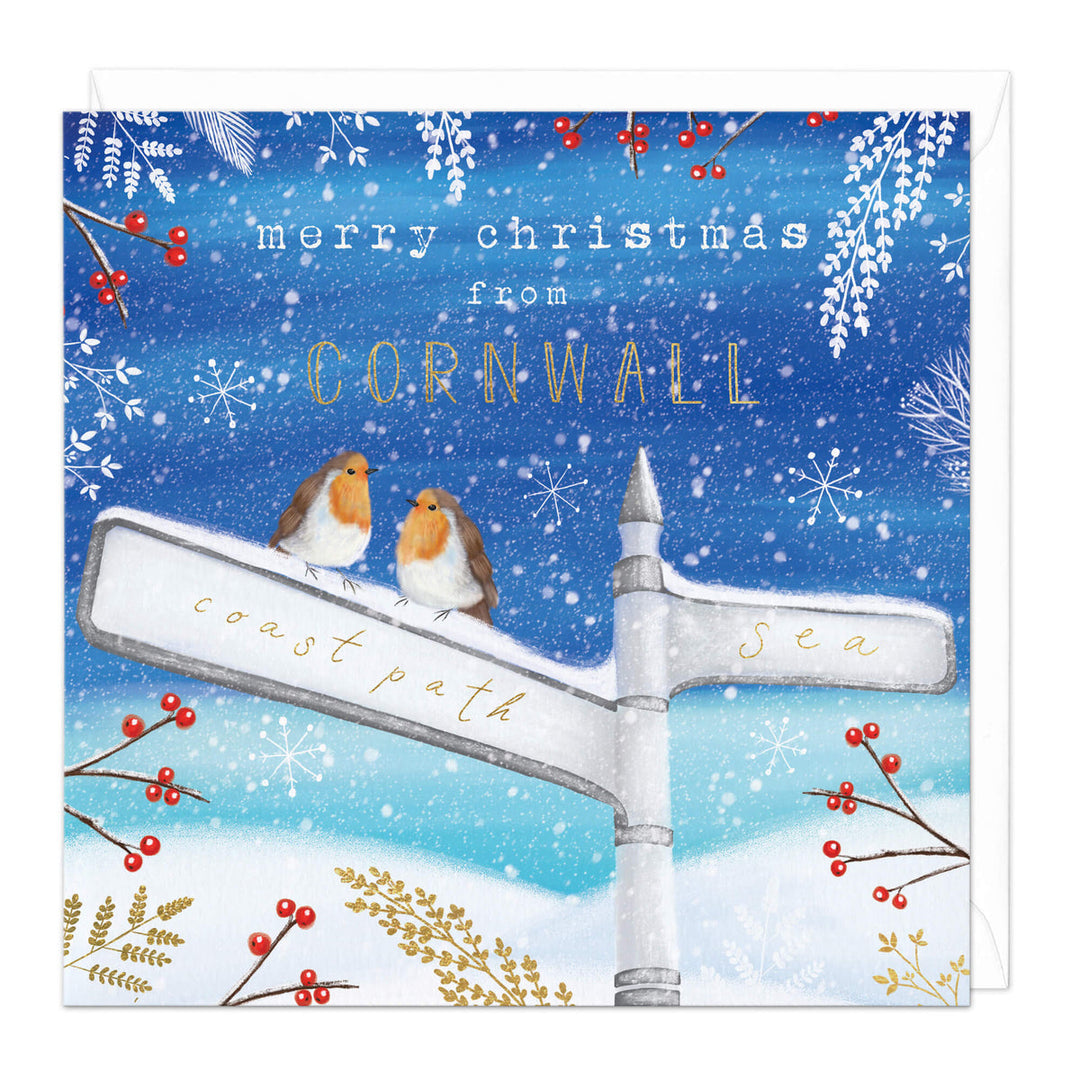 CORNWALL ROBINS CHRISTMAS CARD
---
Next Day Delivery Available
Free Personalized Gift Card Message
Choose A Delivery Date on Cart Page
Celebrate the joy of Christmas from Cornwall with this charming card, featuring a snow-covered signpost on which two robins sit. The arrows point to both the coast and the sea, inviting you to embrace the coastal charm during winter. The silver-foiled text reads "Merry Christmas from Cornwall," spreading warm holiday wishes and inviting your loved ones to share in the beauty and wonder of this special season.
Eco-friendly, recyclable foil
Square - 158 x 158 mm
Card inside reads: Wishing you a Merry Christmas and a Happy New Year
Printed in the UK
Printed on FSC® certified recycled paper
Includes a FSC® recycled paper white envelope and packaged without plastic using a recyclable sticker
IMPORTANT: Please note this card will arrive blank if no gift message is included with your order, ensure that you have a message written with your order for it to be included with this card.
The postage cost for standalone greeting card purchases is £1.95

Free Next Day Delivery: This applies to all collections except for the Cornish Food and Drink Section.
Delivery Availability: From Tuesday to Saturday.
Perishable Goods: Some hampers contain perishable items. Please ensure they are refrigerated upon arrival.
Shelf Life: Scones & Pasties last for 5 days; clotted cream for 5-7 days. For specific best before dates, check product packaging.
Choosing Your Delivery Date:
Availability: Select your preferred date on the cart page, with deliveries available from Tuesday to Saturday.
Exclusions: Delivery is not available on Sundays and Mondays.
AM Delivery: Morning delivery options are also available.
Important:
While you can select a preferred delivery date at checkout, please be aware this is not a guaranteed service. Courier delays can occur and are beyond our control.