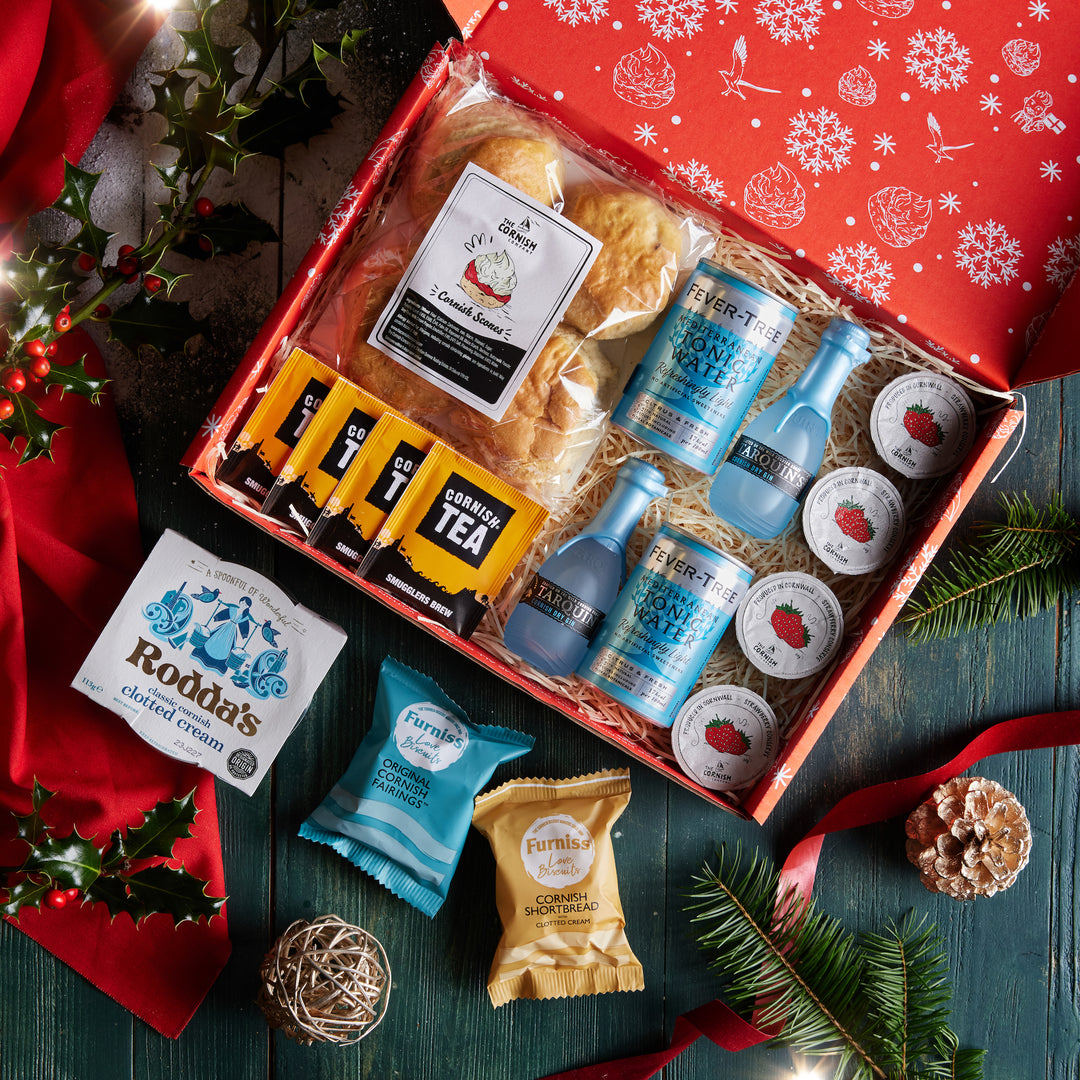 The Merry 'Gin-Mas' Hamper
---
Free Personalized Gift Card Message
Choose A Delivery Date on Cart Page
What better way to get in the festive 'spirit' than pairing our famous cream teas with Cornwall's most popular gin? Gather by the fire this Christmas and get cosy with a loved one, open the hamper box and sip the day away! 
Advance order today! Simply choose a delivery slot at checkout between 1st-23rd December to secure your order this Christmas.

This hamper contains:
4 Freshly Baked Plain Scones - 

Freshly baked, fluffy plain scones that are perfect for enjoying with cream and jam.
113g Rodda's Cornish Clotted Cream - Rodda's clotted cream is a celebrated Cornish export, adored globally. Only the finest Cornish milk is use to craft a range of delectably rich and creamy products.
112g Boddington's Berries Strawberry Conserve (4 Pots) - Enjoy the fruity sweetness of Boddington's Berries strawberry conserve, made with locally sourced berries and perfectly paired with Rodda's clotted cream.
4 Individual Cornish Smugglers Brew Black Tea Bags - Cornish high-quality tea bags that are perfect for a relaxing cup of tea any time of the day
Furniss Original Cornish Fairings Biscuits - Bite into the crunchy goodness of our Furniss Original Cornish Fairings biscuits, made with a blend of ginger, cinnamon and mixed spice for a deliciously comforting taste.
Furniss All Butter Shortbread Biscuits - Indulge in the buttery richness of our Furniss All Butter Shortbread biscuits, made with the finest Cornish butter and baked to perfection for a melt-in-your-mouth experience
2 x 5cl Tarquin's Original - Made with 12 botanicals from around the world and foraged locally on the Cornish coast. Pairs perfectly with:
Mediterranean Tonic, Red Grapefruit and a sprig of Thyme
2 x 20cl Fever-Tree Mediterranean Tonic Water - Blended Mediterranean herbs with top-quality quinine from the 'fever trees' of the Democratic Republic of the Congo to make a floral tonic water.
FREE

 Next Day Delivery Included


FREE

 

Personalized Gift Card Message
Choose A Delivery Date on Cart Page
Please Note: All orders for our cream tea hampers will be dispatched from Monday - Friday only. Please note that this item contains perishable goods. Once dispatched the scones have a shelf life of 4-5 days, ensuring that these goods are refrigerated upon arrival. For further information on the best before dates please refer to the product packaging.

The available delivery days are Tuesday-Saturday.
DIETARY AND ALLERGY ADVICE

  Contains SOYA, GLUTEN and MILK.
  May contain traces of EGG & NUTS.
 100% Vegetarian
Free Next Day Delivery: This applies to all collections except for the Cornish Food and Drink Section.
Delivery Availability: From Tuesday to Saturday.
Perishable Goods: Some hampers contain perishable items. Please ensure they are refrigerated upon arrival.
Shelf Life: Scones & Pasties last for 5 days; clotted cream for 5-7 days. For specific best before dates, check product packaging.
Choosing Your Delivery Date:
Availability: Select your preferred date on the cart page, with deliveries available from Tuesday to Saturday.
Exclusions: Delivery is not available on Sundays and Mondays.
AM Delivery: Morning delivery options are also available.
Important:
While you can select a preferred delivery date at checkout, please be aware this is not a guaranteed service. Courier delays can occur and are beyond our control.