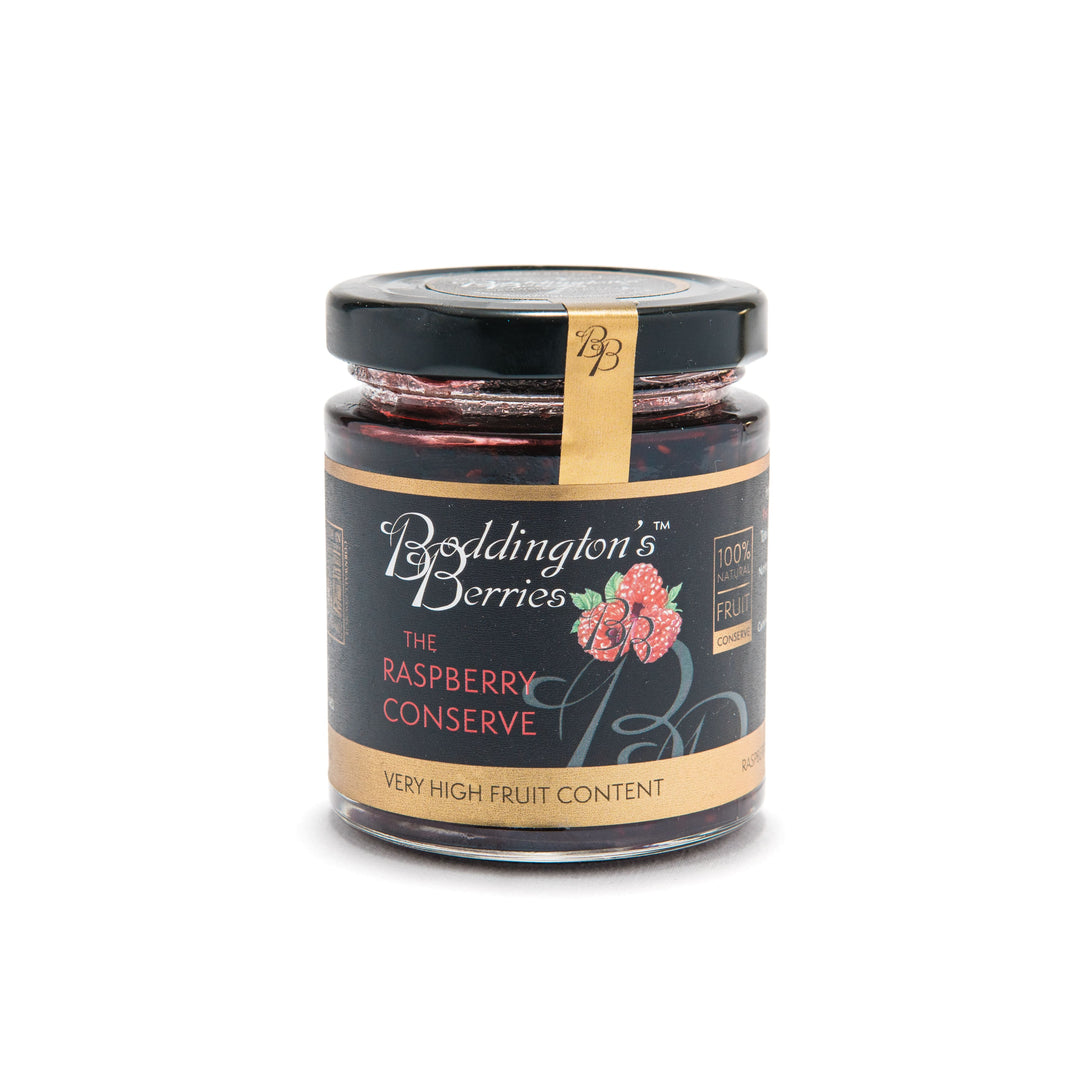 Boddingtons Raspberry Conserve 227g
---
Next Day Delivery Available
Free Personalized Gift Card Message
Choose A Delivery Date on Cart Page
A beautifully fresh-tasting raspberry conserve with a high fruit content.

This conserve is produced from whole fruits using a classic recipe; only adding sugarto create the perfect accompaniment for your morning toast.

We pride ourselves on the very high fruit content, slow cooking time, and natural setting point; developing our jam's full natural flavours 
100% Natural Fruit Conserve,
Prepared with 65g fruit per 100g,
Total Sugar content 70g per 100g,
Made in Cornwall.
Ingredients:
Raspberries,
Sugar.

Nutritional content, typical values per 100g:
Energy 1162.3 kJ / 272.7 kcal,
Fat 0.2g, of which saturates 0.1g,
Carbohydrates 71.4g, of which sugar 71.4g,
Protein 0.8g,
Salt 0.03g.
About Boddington's Berries:
Established in the 1940s as a market garden, Boddington's Berries is now run by the third generation of the family. With over 70 years experience within the soft fruit industry and almost 20 in the preserve market, Boddington's Berries are totally committed to providing consistently high quality products and services.
Free Next Day Delivery: This applies to all collections except for the Cornish Food and Drink Section.
Delivery Availability: From Tuesday to Saturday.
Perishable Goods: Some hampers contain perishable items. Please ensure they are refrigerated upon arrival.
Shelf Life: Scones & Pasties last for 5 days; clotted cream for 5-7 days. For specific best before dates, check product packaging.
Choosing Your Delivery Date:
Availability: Select your preferred date on the cart page, with deliveries available from Tuesday to Saturday.
Exclusions: Delivery is not available on Sundays and Mondays.
AM Delivery: Morning delivery options are also available.
Important:
While you can select a preferred delivery date at checkout, please be aware this is not a guaranteed service. Courier delays can occur and are beyond our control.