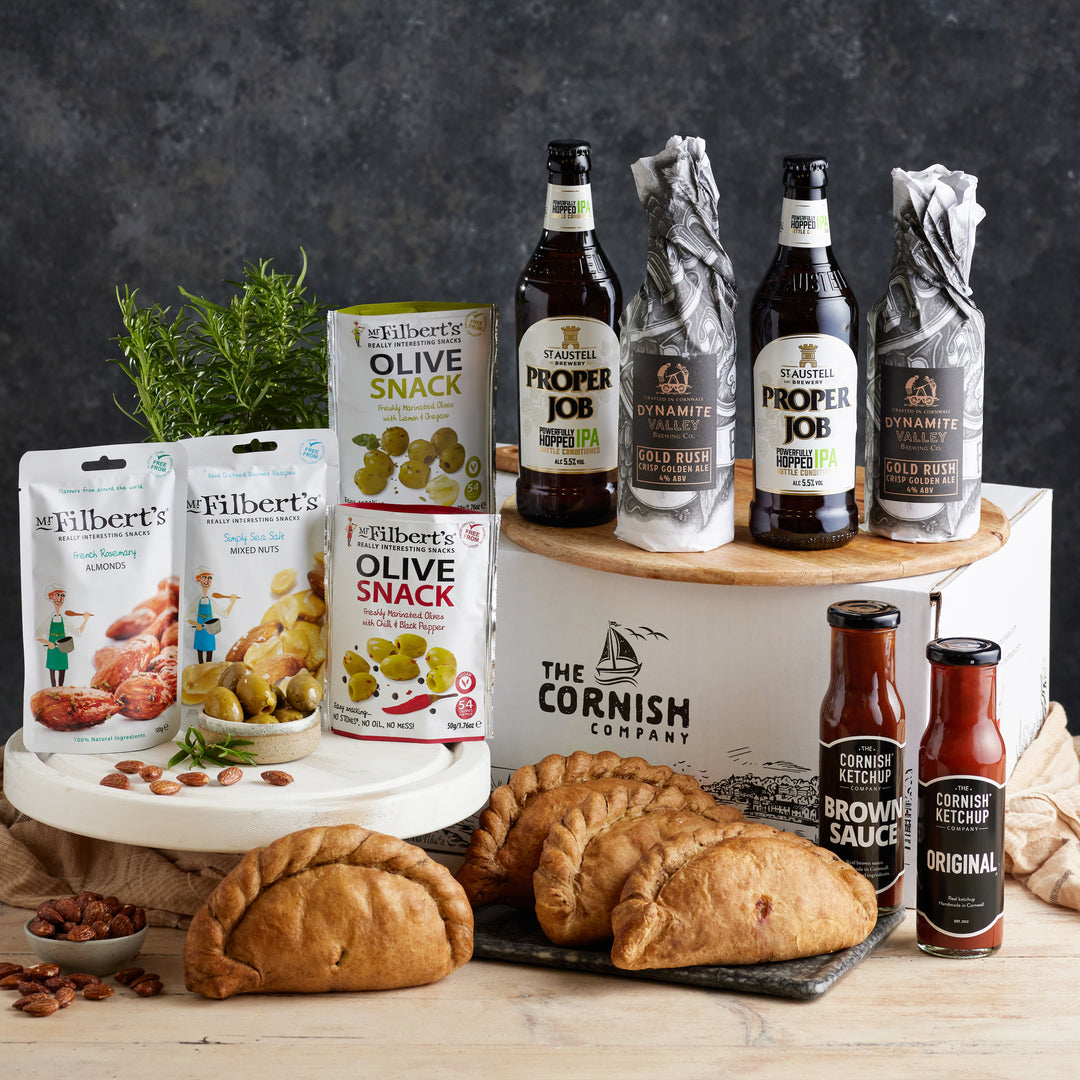 ---
Free Personalized Gift Card Message
Choose A Delivery Date on Cart Page
Indulge in "The Mighty Hamper," where every item is a testament to Cornwall's rich flavors. From the iconic steak pasties to the hop-infused Proper Job IPA and the golden Dynamite Valley Gold Rush, this hamper is a curated celebration of local gastronomy. Enjoy the finesse of Mr. Filbert's gourmet nuts and the regional flair of Cornish condiments. Each element is chosen to offer a memorable taste of Cornwall's culinary heritage, perfect for any connoisseur.
What's Included:
4 x Freshly Baked Medium Steak Pasties
2 x Proper Job IPA 5.5% ABV
2 x Dynamite Valley Gold Rush 4% ABV
1x Mr Filberts French Rosemary Almounds
1x Mr Filberts Simply Sea Salt Mixed Nuts
1x Cornish Ketchup
1x Cornish Brown Sauce
1x Mr Filberts 

Green Olives with Chilli and Black Pepper

1x Mr Filberts Green Olives with Lemon and Oregano 

FREE

 Next Day Delivery Included 

FREE

 

Personalised Gift Card Message
Choose A Delivery Date on Cart Page

 Our pasties are cooked fresh on the day then sent out frozen to arrive in a chilled state ready to be kept in the fridge. The pasties cannot be refrozen.
Pasties
WHEAT Flour (Calcium, Iron, Niacin, Thiamin), Potato, Beef (13%), Onions, Swede, Pastry Margarine (Vegetable Oil - Rspo Palm & Rapeseed, Water, Salt, Emulsifier E471, Colour E160b/E100), Lard, WHEAT Flour, Salt, Butter MILK, Skimmed MILK, EGG, Black Pepper, White Pepper.
Contains:
GLUTEN
MILK
EGG
NUTS

Not suitable for vegans
Not suitable for vegetarians
Free Next Day Delivery: This applies to all collections except for the Cornish Food and Drink Section.
Delivery Availability: From Tuesday to Saturday.
Perishable Goods: Some hampers contain perishable items. Please ensure they are refrigerated upon arrival.
Shelf Life: Scones & Pasties last for 5 days; clotted cream for 5-7 days. For specific best before dates, check product packaging.
Choosing Your Delivery Date:
Availability: Select your preferred date on the cart page, with deliveries available from Tuesday to Saturday.
Exclusions: Delivery is not available on Sundays and Mondays.
AM Delivery: Morning delivery options are also available.
Important:
While you can select a preferred delivery date at checkout, please be aware this is not a guaranteed service. Courier delays can occur and are beyond our control.