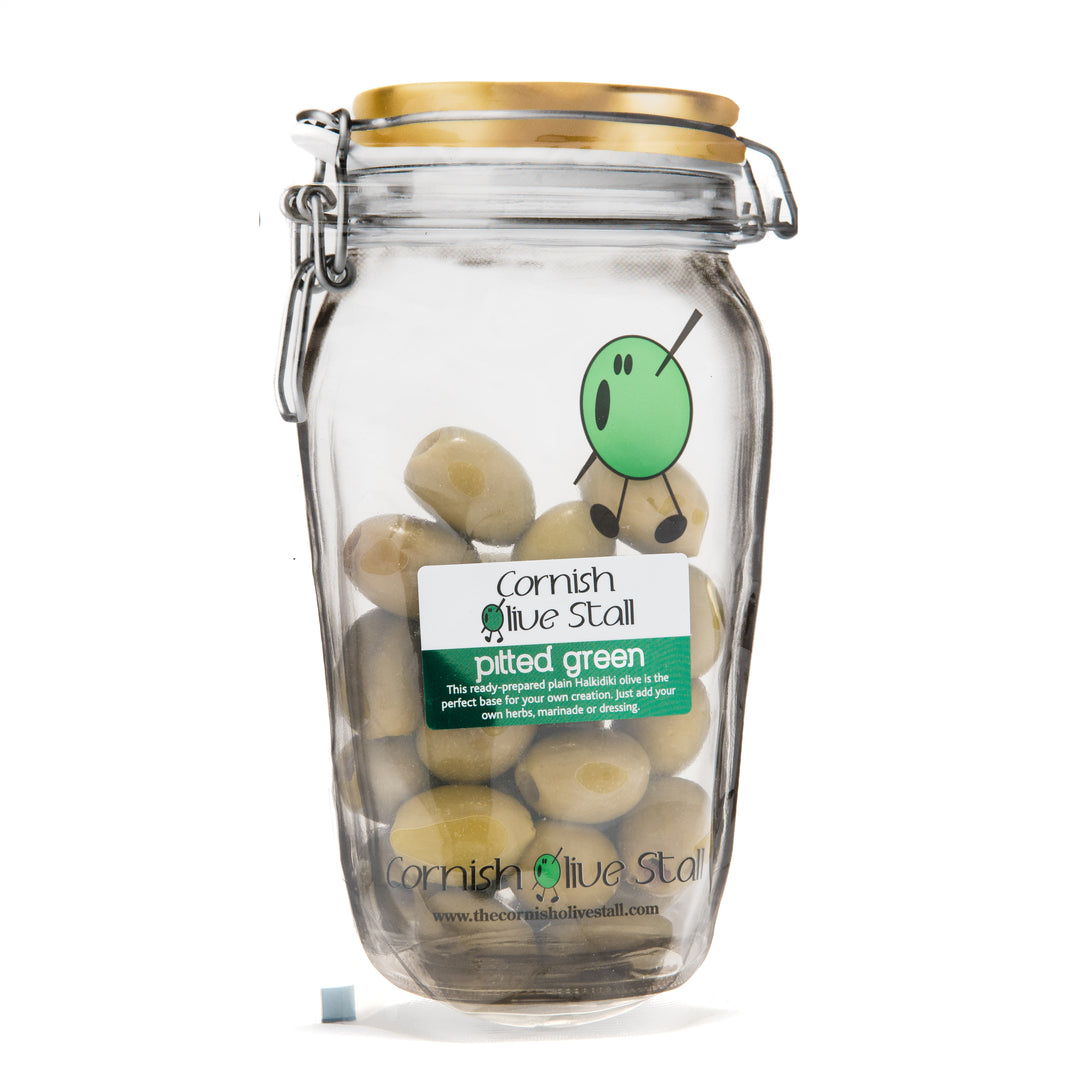 Pitted Green Olives - The Cornish Olive Stall
---
Next Day Delivery Available
Free Personalized Gift Card Message
Choose A Delivery Date on Cart Page
About Cornish Olive Stall:
We have sourced the best olives and found the perfect way to prepare them. You don't have to take our word for it. The Mix, Lemon, Garlic Stuffed, Rosemary & Garlic and Spicy Pimento Olives have all been awarded Taste of the West GOLD awards. The Basil Pesto has been awarded the Taste of the West SILVER award.

Unlike the mass-produced olives you find in supermarkets, our olives are not pasteurised, they are not soaking in a salty brine or oil and are much larger and juicier. The marinades are all hand made by us in our St Austell unit, where possible we always use Cornish ingredients. We pack them in practical stand-up pouches, lightly dressed in oil or marinade. Because there is no oxygen in the pouch to spoil the olives, they stay as fresh ambient as when they were packed, without any preservatives. We hope you'll agree that these are among the best olives you have ever tasted.

Free Next Day Delivery: This applies to all collections except for the Cornish Food and Drink Section.
Delivery Availability: From Tuesday to Saturday.
Perishable Goods: Some hampers contain perishable items. Please ensure they are refrigerated upon arrival.
Shelf Life: Scones & Pasties last for 5 days; clotted cream for 5-7 days. For specific best before dates, check product packaging.
Choosing Your Delivery Date:
Availability: Select your preferred date on the cart page, with deliveries available from Tuesday to Saturday.
Exclusions: Delivery is not available on Sundays and Mondays.
AM Delivery: Morning delivery options are also available.
Important:
While you can select a preferred delivery date at checkout, please be aware this is not a guaranteed service. Courier delays can occur and are beyond our control.