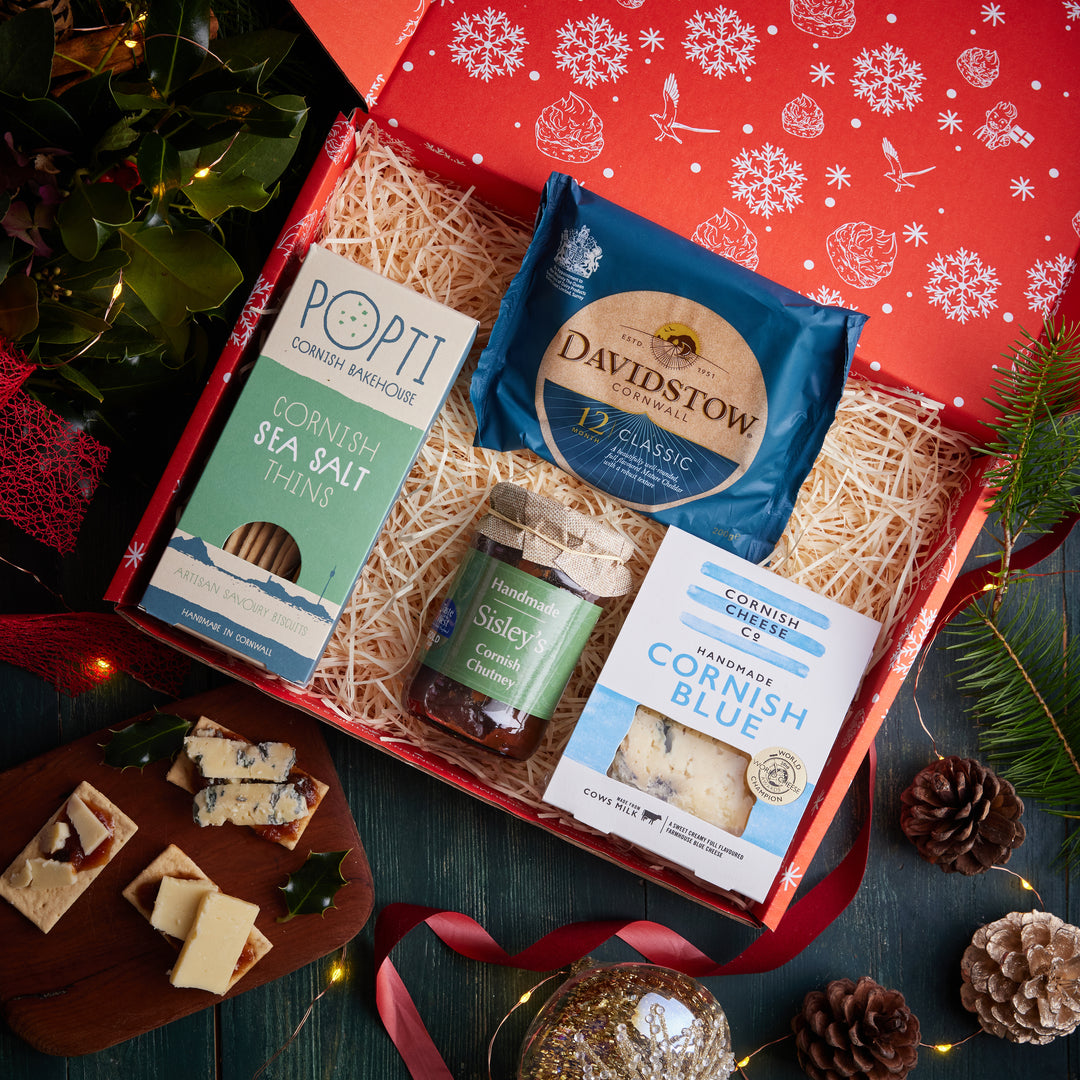 The Christmas Cheese Delight
---
Free Personalized Gift Card Message
Choose A Delivery Date on Cart Page
What Christmas Day would be complete without bringing out the cheeseboard? This hamper contains two local cheeses bursting with a rich flavour unique to Cornish producers
Advance order today! Simply choose a delivery slot at checkout between 1st-23th December to secure your order this Christmas.

This hamper contains: 
1 x Popti Handmade Cornish Sea Salt Thins (120g): Savor the crisp perfection of these handmade thins, seasoned with the finest Cornish sea salt for a delightful crunch.
1 x Award Winning Cornish Blue Cheese (175g): Delight in the creamy and tangy notes of Cornish Blue Cheese, a true winner among cheese connoisseurs.
1 x Davidstow 12 Month Classic Cornish Cheddar (200g): Experience the robust flavor of 12-month-matured Cornish Cheddar, an exquisite cheese with character.
1 x Handmade Cornish Chutney By Sisley's: Elevate your savory experience with the delectable taste of handmade Cornish chutney, thoughtfully crafted by Sisley's for a burst of flavor.
FREE

Next Day Delivery Included

FREE

Personalised Gift Card Message

Choose A Delivery Date on Cart page
Please Note: All orders for our cream tea hampers will be dispatched from Monday - Friday only. Please note that this item contains perishable goods. Once dispatched the scones have a shelf life of 4-5 days, ensuring that these goods are refrigerated upon arrival. For further information on the best before dates please refer to the product packaging.

The available delivery days are Tuesday-Saturday.
The Christmas Cheese Delight offers a delectable assortment of savory treasures, perfect for adding a touch of Cornish flair to your festive celebrations. Each item is carefully selected to bring a taste of Cornwall's finest culinary traditions to your holiday gatherings. Whether you're creating a festive cheeseboard, enjoying a cozy night in, or searching for the ideal gift for a savory enthusiast, this hamper embodies the essence of Cornwall's savory delights during the holiday season. Share the joy of these exquisite treats with loved ones, and let the flavors of Cornwall brighten your festive moments
Free Next Day Delivery: This applies to all collections except for the Cornish Food and Drink Section.
Delivery Availability: From Tuesday to Saturday.
Perishable Goods: Some hampers contain perishable items. Please ensure they are refrigerated upon arrival.
Shelf Life: Scones & Pasties last for 5 days; clotted cream for 5-7 days. For specific best before dates, check product packaging.
Choosing Your Delivery Date:
Availability: Select your preferred date on the cart page, with deliveries available from Tuesday to Saturday.
Exclusions: Delivery is not available on Sundays and Mondays.
AM Delivery: Morning delivery options are also available.
Important:
While you can select a preferred delivery date at checkout, please be aware this is not a guaranteed service. Courier delays can occur and are beyond our control.