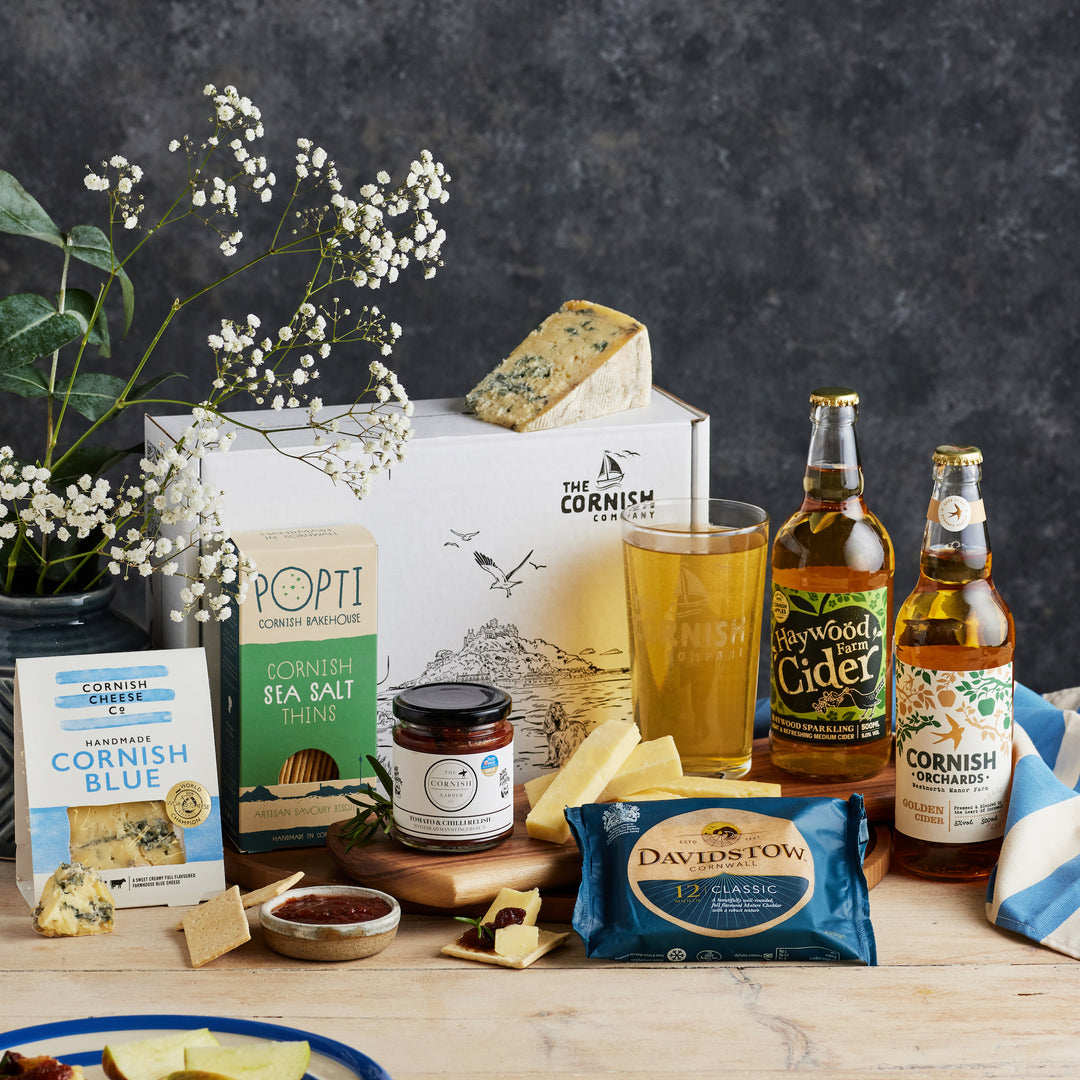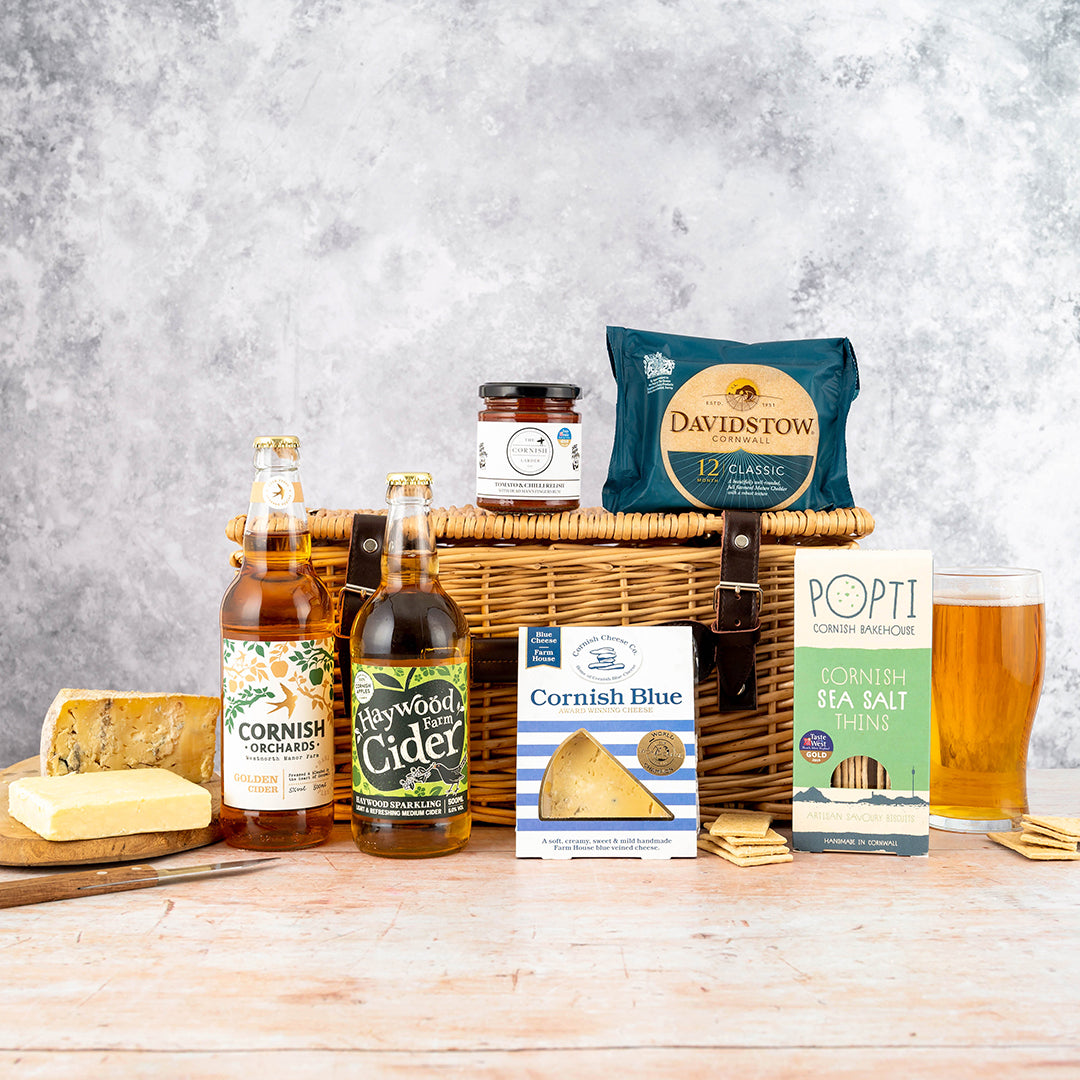 Cornish Cheese & Cider Hamper
---
Free Personalized Gift Card Message
Choose A Delivery Date on Cart Page
Indulge in the unique flavors of Cornwall with the Cornish Cheese & Cider Hamper. This gourmet hamper features a selection of top-quality cheeses from Cornwall, which includes a rich and creamy Cornish Blue and a flavourful cheddar. .
To complement the cheeses, the hamper also includes a two bottles of delicious Cornish ciders, made with fresh apples straight from the orchard. The ciders has a crisp and refreshing taste that perfectly balances the rich and savoury flavours of the cheeses, making it the ideal pairing for a satisfying snack.

This hamper contains:
1 x Davidstow 12 Month Classic Cornish Cheddar 200g - 

Matured for 12 months with a perfectly balanced, rich, long-lasting flavour, Davidstow Classic has a creamy texture and pale glow. A special cheese to be enjoyed every day
1 x Award Winning Cornish Blue Cheese175g - Designed to be eaten as a young cheese, Cornish Blue is a very different product from traditional English blue cheeses. Its flavour is mild and creamy, with a dense texture and buttery richness, instead of the 'salty tang' common of other traditional blue cheeses it has a gentle sweetness.

1 x Popti Cornish Sea Salt Savoury Thins - Award winning Cornish sea salt savoury Thins from POPTI. They are rich with butter and seasoned with crunchy Cornish sea salt. These biscuits are fantastic with any type of cheeses

1 x Cornish Larder Tomato Chutney - Fiery Cajun inspired relish with sweet and fruity notes. Goes perfect with cheese but can also be used to spice up your burgers or mix with cooked pasta!
1x Cornish Orchards Gold 5% - Lightly sparkling & immensely refreshing with fruity apple tones. A blend of bittersweet & dessert apples give this modern style cider body & crispness.

1x Hayward Light and refreshing sparkling cider 5% - This cider combines Katy apples with early cider varieties to make a well balanced and refreshing medium sparkling cider
FREE Next Day Delivery Included - 

Order before 2pm
FREE  

Personalised

 Gift Card Message

- 

Comes with a Cornwall themed gift card with your personal message. To add your message, simply enter it on the cart page
Choose A Delivery Date on Cart page - 

You can choose a delivery date up to 4 months in advance. If you need your order the next day, be sure to order before 2pm

 
Contains
GLUTEN
MILK

Not suitable for vegans
Suitable for vegetarians
May Contains Traces of NUTS
Free Next Day Delivery: This applies to all collections except for the Cornish Food and Drink Section.
Delivery Availability: From Tuesday to Saturday.
Perishable Goods: Some hampers contain perishable items. Please ensure they are refrigerated upon arrival.
Shelf Life: Scones & Pasties last for 5 days; clotted cream for 5-7 days. For specific best before dates, check product packaging.
Choosing Your Delivery Date:
Availability: Select your preferred date on the cart page, with deliveries available from Tuesday to Saturday.
Exclusions: Delivery is not available on Sundays and Mondays.
AM Delivery: Morning delivery options are also available.
Important:
While you can select a preferred delivery date at checkout, please be aware this is not a guaranteed service. Courier delays can occur and are beyond our control.