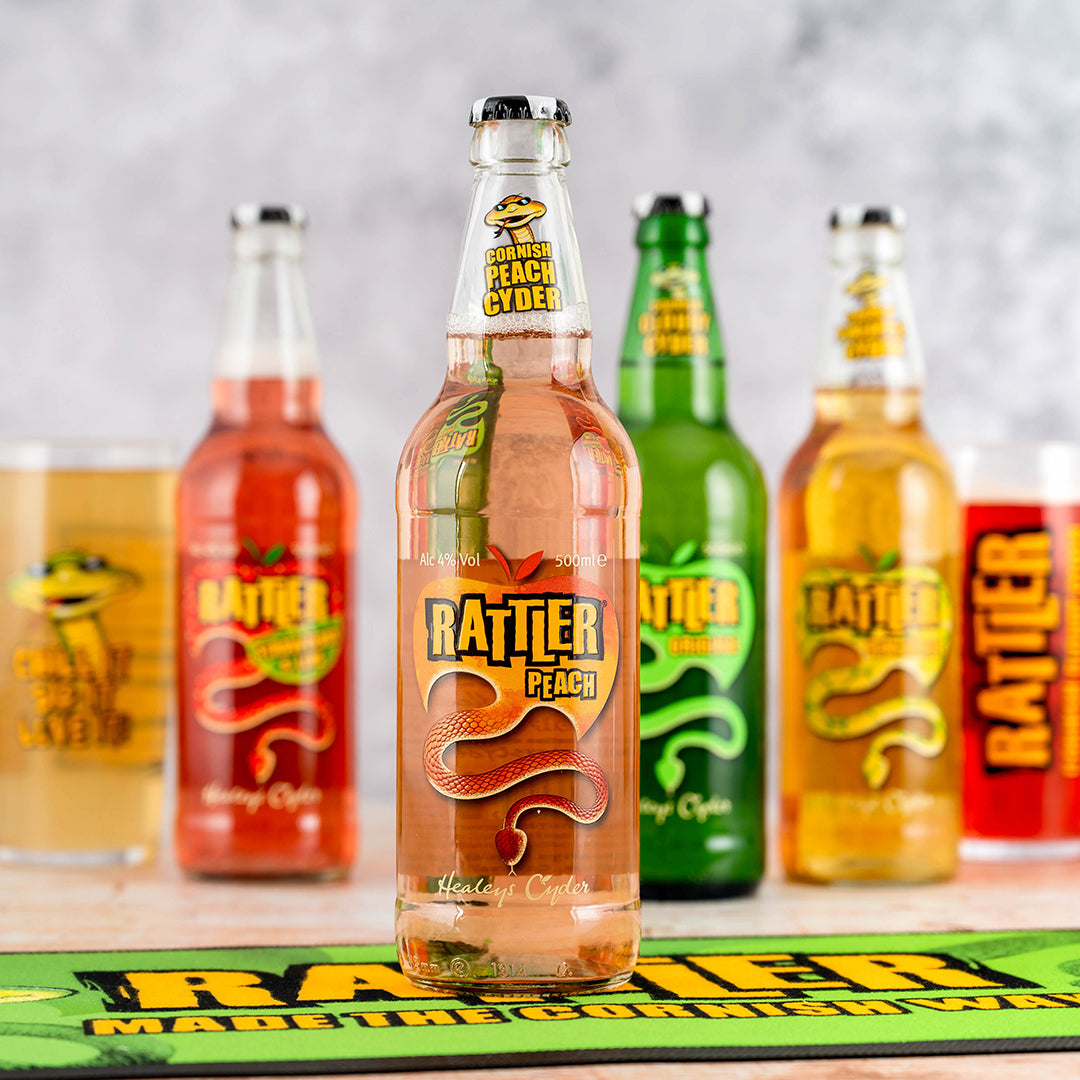 Rattler Cider Gift Hamper
---
Free Personalized Gift Card Message
Choose A Delivery Date on Cart Page
Delight a cider connoisseur with a Rattler gift hamper, perfectly suited for any celebration. Packed with a variety of six Healey's Cyder Farm selections, this hamper showcases the craftsmanship of one of Cornwall's premier cider makers.
An ideal birthday surprise for Dad or any cider lover, this gift box is a hit for anyone who appreciates the unique taste of Cornish cider. It's a standout choice for birthdays, anniversaries, or as a festive Christmas treat.
Included in this delightful selection are:
1x Rattler Orginial 5.5% - Named after the feisty Cornish Rattler apple and blended with Healey's know-how, Cornish Rattler Cyder has the crisp, fresh flavour you crave!
1x Rattler Pear 4% - Blending juicy pears, crisp apples, and Healeys know-how, the Rattler Pear Cyder teeters between sweet and sharp, to really hit the spot.
1x Rattler Berry 4% -Fancy a taste of summer whatever the weather? Bursting with red berry juice and our famous Rattler bite, all blended with Healey's know-how, our Rattler Berry Cyder is a sip of pure sunshine.
1x Rattler Pineapple 4% - Time to get tropical! Bursting with refreshing pineapple, blended with crisp apples and Healeys know-how. Our Rattler Cornish Cyder with Pineapple has the fresh flavour you crave!

1x Rattler Peach 4% - Lifes a peach! Bursting with mouth-watering Peach, blended with crisp apples and Healeys know-how
1x Rattler Strawberry & Lime 4% - Strawberry & Lime Cyder is a perfect summer tipple! 

This fruity new flavour is sure to get your taste buds tingling with its exciting sweet and sharp accents.
FREE

 Next Day Delivery Included - Order before 2pm 
FREE

 

Personalised Gift Card Message - Comes with a Cornwall themed gift card with your personal message. To add your message, simply enter it on the cart page
Choose A Delivery Date on Cart Page - You can choose a delivery date up to 4 months in advance. If you need your order the next day, be sure to order before 2pm

Contains
Sulphites

Vegan Friendly
Gluten Free
100% Vegetarian

Free Next Day Delivery: This applies to all collections except for the Cornish Food and Drink Section.
Delivery Availability: From Tuesday to Saturday.
Perishable Goods: Some hampers contain perishable items. Please ensure they are refrigerated upon arrival.
Shelf Life: Scones & Pasties last for 5 days; clotted cream for 5-7 days. For specific best before dates, check product packaging.
Choosing Your Delivery Date:
Availability: Select your preferred date on the cart page, with deliveries available from Tuesday to Saturday.
Exclusions: Delivery is not available on Sundays and Mondays.
AM Delivery: Morning delivery options are also available.
Important:
While you can select a preferred delivery date at checkout, please be aware this is not a guaranteed service. Courier delays can occur and are beyond our control.