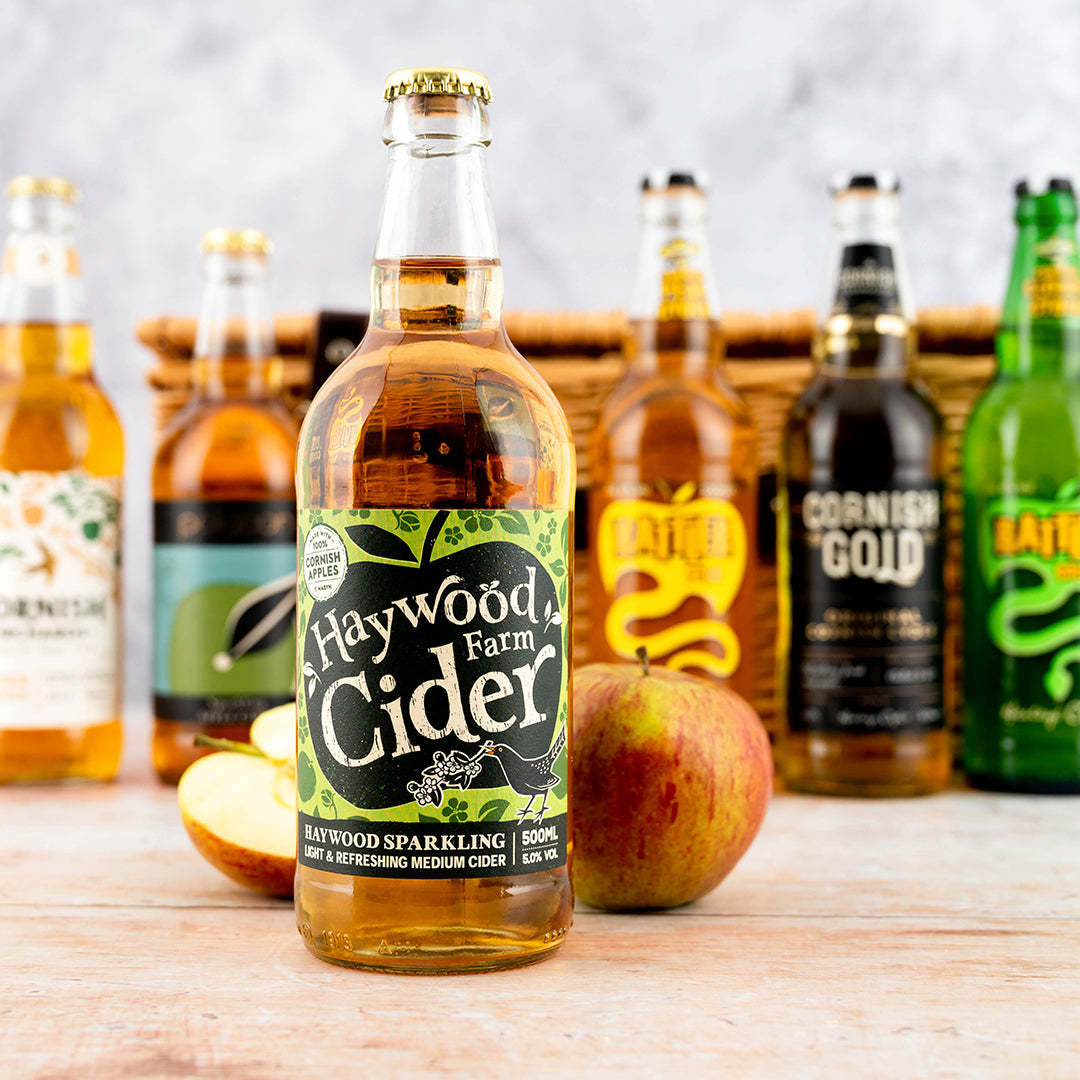 ---
Free Personalized Gift Card Message
Choose A Delivery Date on Cart Page
The Cornish Cider Hamper, a true celebration of Cornwall's world-renowned cider.  It includes six bottles of award-winning Cornish cider, each with a unique flavour and character.
What's Included:
1x Rattler Orginial 6% - Named after the feisty Cornish Rattler apple and blended with Healey's know-how, Cornish Rattler Cyder has the crisp, fresh flavour you crave!
1x Rattler Pear 4% - Blending juicy pears, crisp apples, and Healeys know-how, the Rattler Pear Cyder teeters between sweet and sharp, to really hit the spot.
1x Healeys Cornish Gold 4.5%- A masterful blend of experience, hard work and passion join together to create the crisp apple flavour of Cornish Gold Cyder.
1x Polgoon Sparkling Apple Cider 5% - Lightly sparkling Cornish apple cider, serve chilled or over ice. A cider with a light sparkle that delivers a refreshing clean crisp dry apple flavour.
1x Hayward Light and refreshing sparkling cider 5% - Light and refreshing
sparkling cider
1x Cornish Orchards Gold 5% - Lightly sparkling & immensely refreshing with fruity apple tones. A blend of bittersweet & dessert apples give this modern style cider body & crispness.

FREE 

Next Day Delivery Included - Order before 2pm
FREE

 

Personalised Gift Card Message - Comes with a Cornwall themed gift card with your personal message. To add your message, simply enter it on the cart page
Choose A Delivery Date on Cart Page - You can choose a delivery date up to 4 months in advance. If you need your order the next day, be sure to order before 2pm
Contains:
Sulphur Dioxide

Vegan ✅
Vegetarian ✅
Gluten Free ✅
Free Next Day Delivery: This applies to all collections except for the Cornish Food and Drink Section.
Delivery Availability: From Tuesday to Saturday.
Perishable Goods: Some hampers contain perishable items. Please ensure they are refrigerated upon arrival.
Shelf Life: Scones & Pasties last for 5 days; clotted cream for 5-7 days. For specific best before dates, check product packaging.
Choosing Your Delivery Date:
Availability: Select your preferred date on the cart page, with deliveries available from Tuesday to Saturday.
Exclusions: Delivery is not available on Sundays and Mondays.
AM Delivery: Morning delivery options are also available.
Important:
While you can select a preferred delivery date at checkout, please be aware this is not a guaranteed service. Courier delays can occur and are beyond our control.