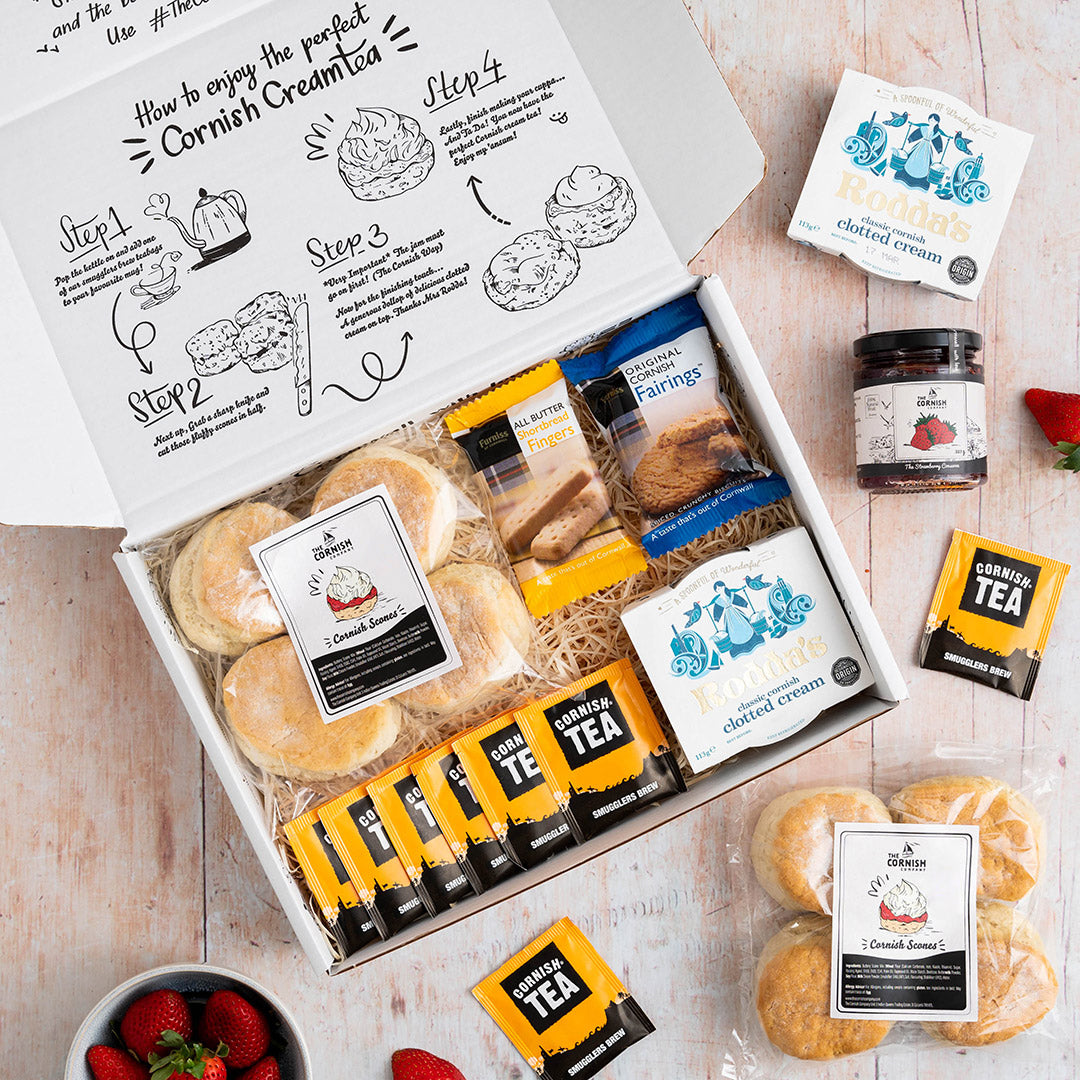 The Cream Tea Hamper Extra Scones, Jam & Cream
---
Free Personalized Gift Card Message
Choose A Delivery Date on Cart Page
Send a taste of Cornwall anywhere in the U.K with our delicious cream tea hamper, now with double the contents of our standard cream tea! This product is perfect for larger groups of up to 8 people, although everyone will be left wanting more after trying these delicious scones.
Just remember... Jam on first!
Serving Size: Up to 8 People 
What's Included:
8 x Freshly Baked Plain Scones:

Double the delight with eight of our freshly baked, plain scones, perfect for sharing or savoring over time.
2 x 113g Rodda's Cornish Clotted Cream:

Twice the amount of Rodda's iconic Cornish Clotted Cream ensures every scone can be generously topped with this creamy classic.
228g Boddington's Berries Strawberry Conserve: A larger jar of Boddington's Berries Strawberry Conserve to lavishly spread over your scones, enhancing your cream tea with its rich, fruity flavor.
8 x Individual Cornish Smugglers Brew Black Tea Bags: A full complement of black tea bags to brew a strong, comforting cup that pairs beautifully with your scones and biscuits.
Original Cornish Fairings Biscuits: The spiced sweetness of these traditional ginger biscuits adds a delightful crunch and warmth to your tea time.
Clotted Cream Shortbread Biscuits: Indulge in the rich, buttery goodness of clotted cream shortbread biscuits, a luxurious treat to accompany your cream tea.
FREE

 Next Day Delivery Included - Order before 2pm
FREE

 

Personalised Gift Card Message - Comes with a Cornwall themed gift card with your personal message. To add your message, simply enter it on the cart page
Choose A Delivery Date on Cart Page - You can choose a delivery date up to 4 months in advance. If you need your order the next day, be sure to order before 2pm
Scones
WHEAT Flour (Calcium Carbonate, Iron, Niacin, Thiamin), Sugar, Raising Agent: E450, E500, E341, Palm Oil, Rapeseed Oil, Maize Starch, Dextrose, ButterMILK Powder, SOYA Flour, MILK Cream Powder, Emulsifier: E481, E471, Salt, Flavouring, Stabiliser: E412, Water, Preservative: Potassium Sorbate E202.
SOYA
GLUTEN
MILK

May contain traces of NUTS
Not suitable for vegans
Suitable for vegetarians
Free Next Day Delivery: This applies to all collections except for the Cornish Food and Drink Section.
Delivery Availability: From Tuesday to Saturday.
Perishable Goods: Some hampers contain perishable items. Please ensure they are refrigerated upon arrival.
Shelf Life: Scones & Pasties last for 5 days; clotted cream for 5-7 days. For specific best before dates, check product packaging.
Choosing Your Delivery Date:
Availability: Select your preferred date on the cart page, with deliveries available from Tuesday to Saturday.
Exclusions: Delivery is not available on Sundays and Mondays.
AM Delivery: Morning delivery options are also available.
Important:
While you can select a preferred delivery date at checkout, please be aware this is not a guaranteed service. Courier delays can occur and are beyond our control.