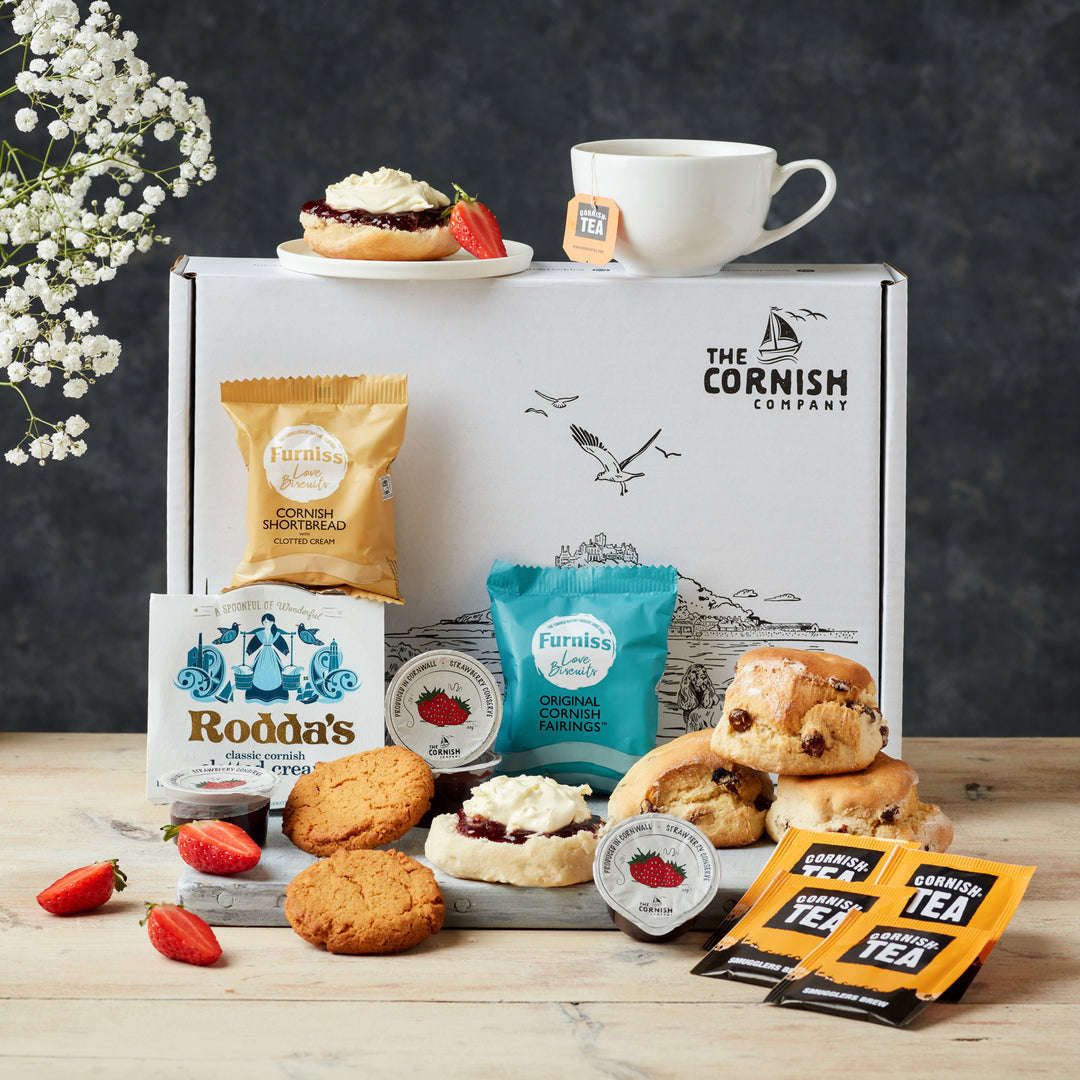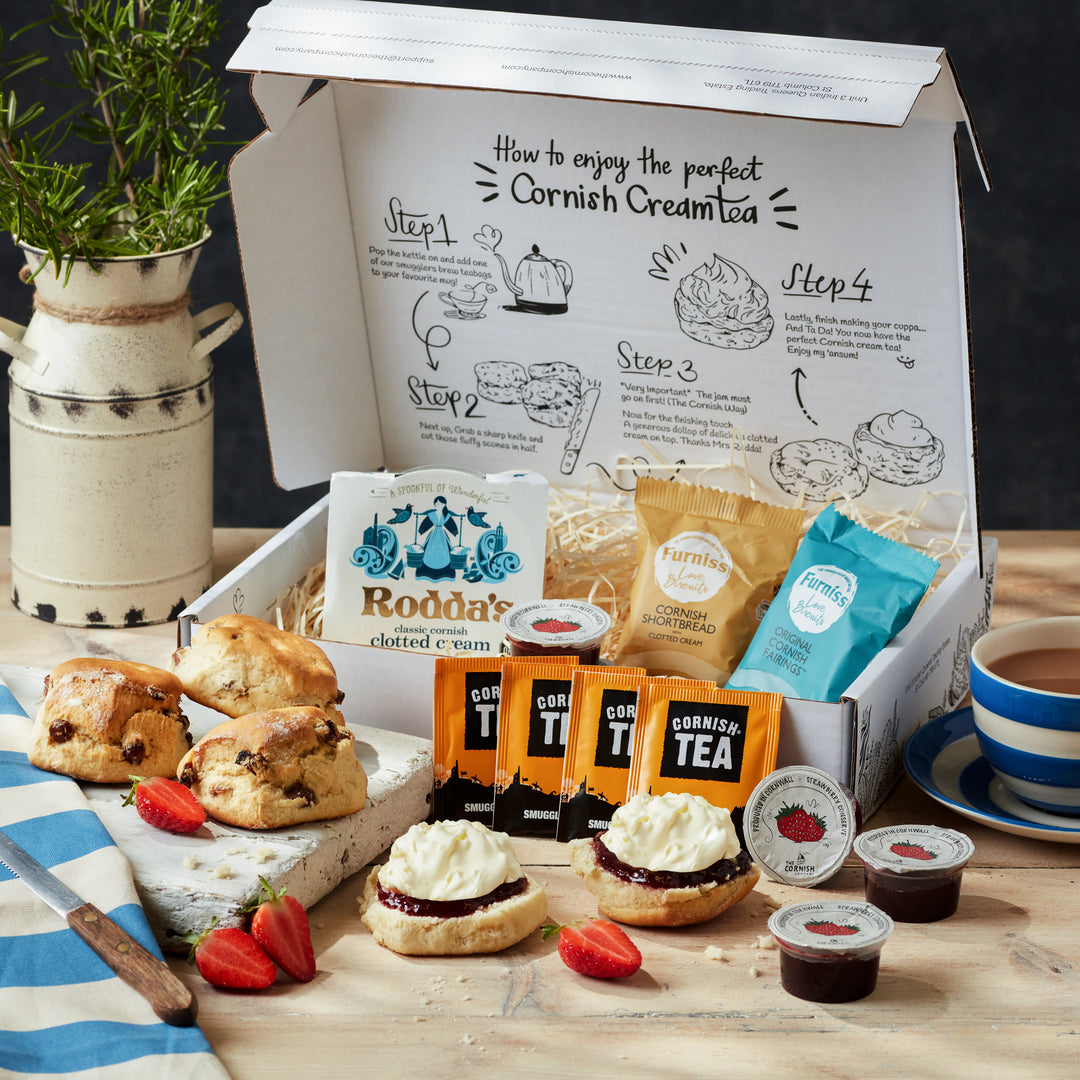 The Fruit Scone Cream Tea Hamper
---
Free Personalized Gift Card Message
Choose A Delivery Date on Cart Page
Send a taste of Cornwall anywhere in the U.K with one of our delicious cream tea hampers, with a sprinkling of fruit in our acclaimed scones. We only source the highest quality goods from all across Cornwall. There is never a wrong time to enjoy a Cornish cream tea!
Just remember... Jam on first!
What's Included:
4 Freshly Baked Fruit Scones - Bite into the sweet goodness of our fruit scones, dotted with juicy sultanas and baked to perfection for a delightful teatime treat
113g Rodda's Cornish Clotted Cream - A spoonful of Rodda's luxuriously thick Cornish Clotted Cream is the perfect complement to our scones, making every bite a creamy delight.
112g Boddington's Berries Strawberry Conserve (4 Pots) - Each pot of Boddington's Berries Strawberry Conserve bursts with the vibrant flavor of freshly picked strawberries, adding a luscious layer of sweetness to your scones.
4 Individual Cornish Smugglers Brew Black Tea Bags - Complement your cream tea with the robust and hearty flavour of Cornish Smugglers Brew Black Tea, a perfect accompaniment to enhance the entire experience.
Original Cornish Fairings Biscuits - Enjoy the crunchy, spicy sweetness of Furniss Original Cornish Fairings, a biscuit that's a traditional favourite for its unique blend of ginger and cinnamon flavours.
Clotted Cream Shortbread Biscuits: - These shortbread biscuits are a creamy delight, infused with authentic Cornish clotted cream for a rich and luxurious taste in every bite. They are the perfect sweet complement to your afternoon tea hamper.
FREE

Next Day Delivery Included - Order before 2pm
FREE

Personalised Gift Card Message - Comes with a Cornwall themed gift card with your personal message. To add your message, simply enter it on the cart page
Choose A Delivery Date on Cart Page - You can choose a delivery date up to 4 months in advance. If you need your order the next day, be sure to order before 2pm
Fruit Scones
WHEAT Flour (Calcium Carbonate, Iron, Niacin, Thiamin), Sugar, Raising Agent: E450, E500, E341, Palm Oil, Rapeseed Oil, Maize Starch, Dextrose, ButterMILK Powder, SOYA Flour, MILK Cream Powder, Emulsifier: E481, E471, Salt, Flavouring, Stabiliser: E412, Water, Sultanas (12%), Preservative: Potassium Sorbate E202.
Contains:
SOYA
GLUTEN
MILK

Not suitable for vegans
Suitable for vegetarians
Does not contain MSG
May contain traces of NUTS
Free Next Day Delivery: This applies to all collections except for the Cornish Food and Drink Section.
Delivery Availability: From Tuesday to Saturday.
Perishable Goods: Some hampers contain perishable items. Please ensure they are refrigerated upon arrival.
Shelf Life: Scones & Pasties last for 5 days; clotted cream for 5-7 days. For specific best before dates, check product packaging.
Choosing Your Delivery Date:
Availability: Select your preferred date on the cart page, with deliveries available from Tuesday to Saturday.
Exclusions: Delivery is not available on Sundays and Mondays.
AM Delivery: Morning delivery options are also available.
Important:
While you can select a preferred delivery date at checkout, please be aware this is not a guaranteed service. Courier delays can occur and are beyond our control.