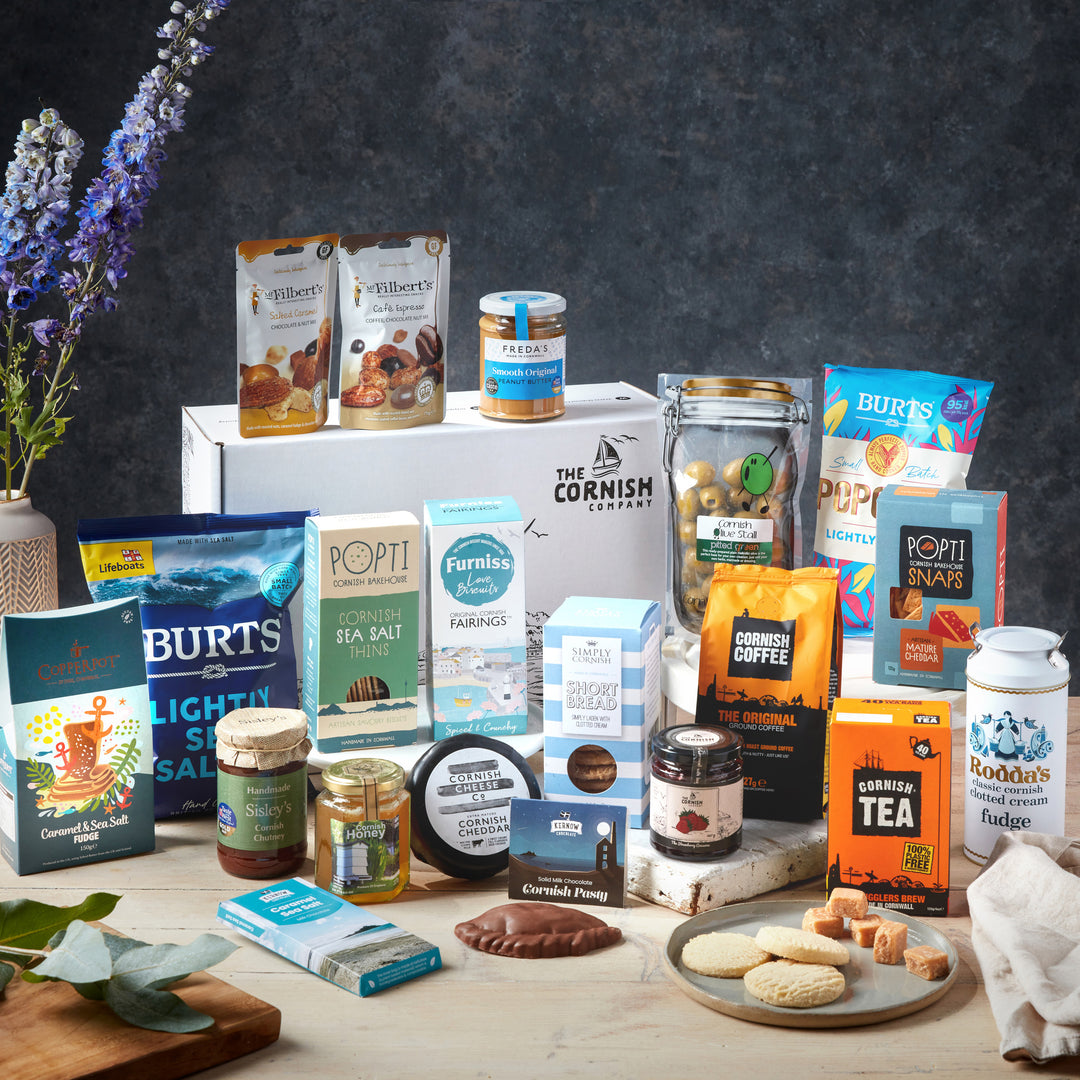 The Ultimate Taste of Cornwall
---
Free Personalized Gift Card Message
Choose A Delivery Date on Cart Page
Embark on an unparalleled culinary journey with our Ultimate Taste of Cornwall Hamper, a magnificent amalgamation of the very best that Cornwall has to offer. Brimming with a variety of savory delights and sweet indulgences, this hamper is meticulously crafted to ensure that every bite transports you to the charming Cornish coastlines and landscapes 
What's Included: 
Popti Mature Cheddar Snaps

:

A perfect savory snack with a rich, cheesy punch.
Popti Sea Salt Thins

: Delicately crisp and flavored with the freshness of the sea
Cornish Coffee - Original Blend (227g)

: A smooth, rich blend to kickstart your mornings or uplift your afternoons.
Cornish Tea 40s

: A selection of 40 tea bags offering a classic Cornish brew; robust and hearty, ideal for daily refreshment.
Burts Lightly Salted Crisps (150g):

Savor the simple pleasure of perfectly crispy, lightly salted crisps.
Burts Popcorn Lightly Salted: Enjoy the airy delight of popcorn with a subtle, satisfying sprinkle of salt.
Cornish Co Cheddar Cheese

: A block of creamy, flavorsome goodness.
Cornish Company Strawberry Jam Jar

: A lusciously sweet and vibrant preserve to elevate your meals.
Freda's Smooth Peanut Butter

: Silky, nutty, and a delightful spread on any surface.
Cornish Honey

: The sweet, floral notes that elevate teas and baked goods.
Sisleys Cornish Chutney

: A wonderful blend of sweet and savory to complement cheeses and meats.
Cornish Olive Stall Olives

: Briny, hearty, and a perfect accompaniment to cheese platters.
Mr Filberts Salted Caramel Nuts:

Indulge in a sweet and salty treat with these caramel-infused, salt-kissed nuts.
Mr Filberts Cafe Espresso Nuts: Experience a caffeinated kick with nuts that boast a rich, espresso flavor.
Kernow Chocolate Salted Caramel: Savor the sweet and savory fusion of luscious caramel with a sprinkle of sea salt, enrobed in smooth Kernow chocolate.
Kernow Chocolate Shaped Pasty: Delight in the whimsical charm and rich flavor of a chocolate crafted into the iconic shape of a Cornish pasty.
Copperpot Salted Caramel Fudge

: A sweet, creamy indulgence with a salted edge.
Roddas Clotted Cream Fudge

: A soft, crumbly delight, melding sweetness with the richness of clotted cream.
Simply Cornish Clotted Cream Biscuits:

Enjoy the rich, buttery delight of biscuits infused with luxurious Cornish clotted cream.
Furniss Fairings

: The iconic Cornish ginger biscuits, providing a warm, spicy treat.
FREE

 Next Day Delivery Included

FREE

 

Personalised Gift Card Message
Choose A Delivery Date on Cart Page
Free Next Day Delivery: This applies to all collections except for the Cornish Food and Drink Section.
Delivery Availability: From Tuesday to Saturday.
Perishable Goods: Some hampers contain perishable items. Please ensure they are refrigerated upon arrival.
Shelf Life: Scones & Pasties last for 5 days; clotted cream for 5-7 days. For specific best before dates, check product packaging.
Choosing Your Delivery Date:
Availability: Select your preferred date on the cart page, with deliveries available from Tuesday to Saturday.
Exclusions: Delivery is not available on Sundays and Mondays.
AM Delivery: Morning delivery options are also available.
Important:
While you can select a preferred delivery date at checkout, please be aware this is not a guaranteed service. Courier delays can occur and are beyond our control.